Mon, 30 May 2022 at 6:59 pm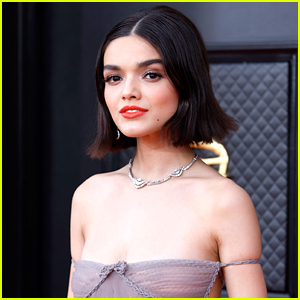 There's a major rumor going around this weekend about Rachel Zegler!
The West Side Story star has recently been in London filming the upcoming live action Snow White movie, but it's now being rumored that she's already lined up her next project.
Over the past couple of days, it's been reported that Rachel has been cast in a leading role in the upcoming The Hunger Games prequel, The Ballad of Songbirds and Snakes!
Get more info inside…
It's being reported that she is set to portray the female lead of Lucy Gray Baird, who was the female tribute from District 12 in the 10th Hunger Games.
While nothing has been confirmed by any official sources, fans think that Rachel herself has slyly confirmed the casting rumor.
On Monday (May 30), Rachel tweeted, "listen up….. can y'all grow restfully? are you becoming an individual resting decisively?"
Fans have deciphered the tweet, and if you take the first letter in each word, it would spell out Lucy Gray Baird!
Since the casting rumor, Rachel has also "liked" a couple of tweets talking about her career trajectory so far.
One tweet reads, "it's official. i have no idea what ur next move is," which she also quote tweeted, writing, "i've peaked"
Another tweet she liked says, "she's not going anywhere anytime soon and you guys are gonna have to deal with it," which was a second tweet in a thread. The first tweet reads, "some people are going to be really mad now that rachel has been booking blockbusters left and right"
Again, nothing has been announced officially. Stay tuned to JJJ for any new updates!
ICYMI: Find out who the male lead in The Ballad of Songbirds and Snakes is…
Also coming up for Rachel is her second movie, Shazam: The Fury of the Gods, which is out later this year, and an animated musical, Spellbound!
listen up….. can y'all grow restfully? are you becoming an individual resting decisively?

— rachel zegler (she/her/hers) (@rachelzegler) May 30, 2022