Fri, 03 June 2022 at 11:51 am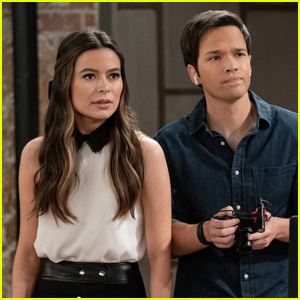 WARNING: This post contains spoilers for iCarly season 2.
Miranda Cosgrove is dishing on iCarly season 2!
During the finale episode on Friday (June 3), Miranda's character Carly focuses on giving her longtime friend Freddie Benson (Nathan Kress) the best birthday ever. She goes so far as to help Freddie's girlfriend Pearl Wallace (Mia Serafino), who struggles to pull off her birthday plans.
Pearl ultimately leaves after failing to put together the perfect party for Freddie, only to come back in the episode's final moments. When she returns, she tells Freddie: "I'm never going to know you as well as Carly does, because you and Carly are clearly in love with each other."
In a new interview with People, Miranda addressed the cliffhanger and what it could mean for season 3.
Click inside to find out what she said…
"I definitely think that the Pearl character coming into the mix made Carly realize she's been feeling things for Freddie for a long time. I don't know if they really make that totally clear when you're watching the show," she told the outlet. "You know that Carly's having some kind of internal struggle, but you don't fully understand why. So I do think that it gives the show somewhere to go for the next season."
She went on to say that the cliffhanger was a surprise for her and Nathan as well, with both of them not knowing what to make of it.
"For the final scene, Nathan and I didn't know what expressions to make, because we don't know what's going to happen in the next season," she continued. "So, we're both like, 'What are we supposed to be feeling at the end of the scene? Is it Carly happy that Pearl leaves? Or, is Freddie going to go after Pearl?' It's just so up in the air right now. So yeah, we're as confused as everybody else and kind of waiting to find out."
In the original iteration of the show, Freddie had unreciprocated feelings for Carly. The pair briefly dated in season 3, but broke up after he realized her feelings weren't sincere.
The reboot has hinted that there may be some lingering feelings between the two, with Miranda explaining that "there are moments" where it seems they "might still have something for each other." She's hopeful this will continued to be explored if the series is picked up for a third season.
"I always thought on the original series it was really cute how Freddie has this undying love for Carly, and it's kind of like a puppy dog love. Ever since he was little, she's like his crush. But as the show went on and they got older, we couldn't really do that anymore because all of a sudden, we were teenagers," she said.
"But I feel like now that they're adults, it's not the same. It's like a totally different love than it used to be," she added. "I think they'll always love each other as best friends. They're so important to each other, and they're such big parts of each other's lives. But yeah, I sort of feel like it is a good time if they are going to get together now that they're adults, because they're just in totally different places. And I feel like the way the season ends, it's more like Carly's the one pining for Freddie. It's finally switched."
The actress said she thinks Carly needs to prove that her feelings are genuine in order for the relationship to get off the ground, "because it's always been Freddie being the one that's been putting in all the work."
"I kind of like it more," she concluded. "I like the idea of coming around and realizing what's been in front of her all along."
The first two seasons of iCarly are now streaming on Paramount+.
Click here to see every OG character who has returned to the reboot.
Like Just Jared Jr. on FB