Tue, 07 June 2022 at 8:36 pm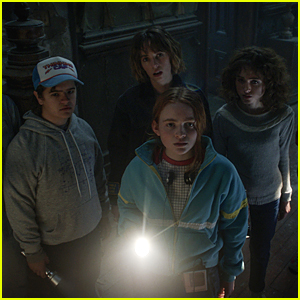 There are some new details being revealed about the fifth and final season of Stranger Things!
The hit Netflix series is currently in the middle of it's fourth season, with the first volume out now.
While they're still working on finishing up the last two episodes of season four, creators Matt and Ross Duffer are already teasing the next season.
Click inside to read more…
"I'm not sure we're ready to say yet a start date for shooting," Matt told TVLine. "But a lot of it is pretty well mapped out."
"The ending is the hard thing," he adds. "That's obviously the stressful thing. We really want to stick the landing."
"I'm sure we will do a time jump," Ross added. "Ideally, we'd have shot [Seasons 4 and 5] back to back, but there was just no feasible way to do that."
Netflix's head of scripted series Peter Friedlander also opened up about the binge-watch model for the show and other scripted series, confirming that they won't be making season five a weekly release model.
"For the fans of Stranger Things, this is how they've been watching that show, and I think to change that on them would be disappointing," he shared with Variety. "To not give them exactly what they've been expecting — which is Stranger Things is a seasonal experience, they go through that with them — I think that it would be an abrupt change for the member."
"We fundamentally believe that we want to give our members the choice in how they view," Peter added. "And so giving them that option on these scripted series to watch as much as they want to watch when they watch it, is still fundamental to what we want to provide. And so when you see something like a batched season with Stranger Things, this is our attempt at making sure we can get shows out quicker to the members. And it's actually really about servicing them in a more expedient ways."
ICYMI: Did you see what BFFs Noah Schnapp and Millie Bobby Brown said about their friendship??
Like Just Jared Jr. on FB