Thu, 09 June 2022 at 7:37 pm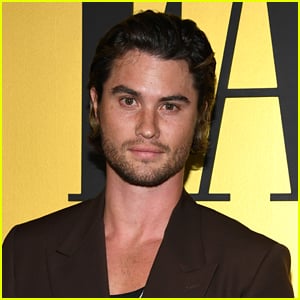 Chase Stokes is becoming a leading man!
The 29-year-old Outer Banks actor has been cast in his first movie lead role in Music Got Me Here, Deadline reveals.
The film is being directed by Gurinder Chadha and is based on the true story of Forrest Allen and Tom Sweitzer, with a script by Irwin Winkler and by Jose Ruisanchez. It's also based on the documentary of the same name by Susan Koch.
Find out more info inside…
Music Got Me Here "tells the incredible true story of an eccentric high school music teacher, Tom Sweitzer, in a small Virginia town whose world is upended when a former student Forrest Allen (Stokes) — a wild bright light — is left in a coma following a freak snowboarding accident. Hovering between life and death, this young man's last hope for recovery, and to wake up and talk and walk again, is a reluctant teacher with a damaged past who answers the call from a desperate family to use music therapy as a means of breaking through to their son. This is a story about family, the bonds of friendship and ultimately, the healing power of music."
"It's very rare for a story like this to come along. Based on true-life events, I was gripped by the script and the documentary of the journey of Forrest and Tom and how powerful a family's love can be to turn things around. Chase Stokes is an exciting young actor who I believe has the vulnerability and emotion to convey the real depths of human despair and the exhilarating heights of relief and happiness the film explores. Add the amazing power of music and an inspiring soundtrack and you have a film that I believe will touch people all over the world," director Gurinder Chadhasaid in a statement.
"I'm thrilled that Chase identifies with my own journey. As an actor, Chase embodies the fierceness and humor that lives in my heart and the spirit that helped me never ever give up hope," Forrest Allen said.
Chase will also be returning for season three of Outer Banks, and he'll also be seen in the upcoming Uglies movie adaptation!
Like Just Jared Jr. on FB