Mon, 13 June 2022 at 5:36 pm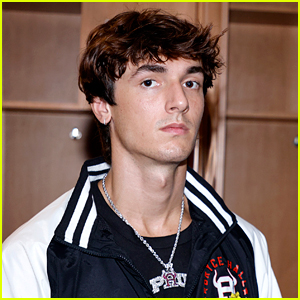 Bryce Hall and his friends are doing okay after being involved in a car accident on Sunday night (June 12) in Los Angeles.
The 22-year-old TikTok star's Tesla car was hit by a drunk driver and his car appears to be totaled.
Find out more inside…
"I got hit by a drunk driver last night at 40 + mph with 5 people in my car because the guy ran a red light… Im genuinely so grateful that everyone is okay & amazed everyone only left w/ minor injuries," he tweeted, along with a video of the scene.
In a video obtained by TMZ, Bryce admitted, "I'm more in shock, my legs are shaking."
"Got hit by a drunk driver, side-swiped me, hard," he added.
One of Bryce's friends who was in the car, Aaron Maternowski, got some bruises and a couple of cuts on his arm. Bryce showed the injuries on his Instagram story.
"It was a scary experience, but I'm glad everyone is okay and grateful we left with minor injuries," Aaron captioned a video. See below.
Also in the video, it looks the officers gave the other driver a field sobriety test and he was seen being arrested.
We're glad everyone is okay!
ICYMI: Bryce will be starring in a new TikTok-inspired movie.
I got hit by a drunk driver last night at 40 + mph with 5 people in my car because the guy ran a red light… Im genuinely so grateful that everyone is okay & amazed everyone only left w/ minor injuries pic.twitter.com/ylwmUq690Q

— Bryce Hall (@BryceHall) June 13, 2022
Like Just Jared Jr. on FB