Tue, 14 June 2022 at 5:29 pm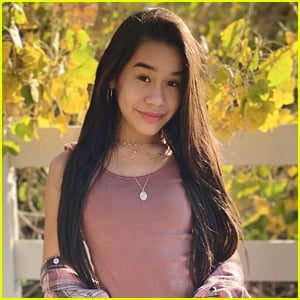 Alysa Gutierrez-Sierra can be seen in the new season of Charmers!
The young dancer and actress portrays Abby in season two of the Brat TV series.
In the show, when Senna (Brooklyn Queen) reunites with her friends for another summer, the coven must navigate friendships, first crushes, and a new more powerful enemy that seeks to exploit their vulnerabilities to undermine their coven.
The second episode of the season was just released on Tuesday (June 14).
In "The Awakening," the girls attempt the Awakening Spell to gain their individual powers but not everyone gets the same results.
We caught up with Alysa recently and got to know 10 Fun Facts about her!
See what she shared inside…
Check out her fun facts below…
1. I like to make jewelry for my friends and family.
2. Recently I've been really into archery, I practice in my backyard.
3. I've been on 3 Brat tv shows, Mani, Chicken Girls and Charmers.
4. My idol is Jennifer Lopez because she's a strong Latina who inspires me to never give up on my dreams.
5. My first concert I attended was for One Direction, I'm a huge Harry Styles fan (but who isn't?)
6. I've danced for 8 artists, including Pink, Justin Bieber, and Meghan Trainor.
7. I love going to Disneyland with my family.
8. My favorite childhood memory is going to the Jersey shore with my family in the summer.
9. I have a mini golden doodle named Rocky Star, he is so fluffy.
10. I was born in New Jersey but I live in California, and I love it here.
ICYMI: Get to know some of Alysa Gutierrez-Sierra's co-stars – Brooklyn Queen, Sophie Fergi and Indi Star!
Like Just Jared Jr. on FB