Wed, 22 June 2022 at 2:00 pm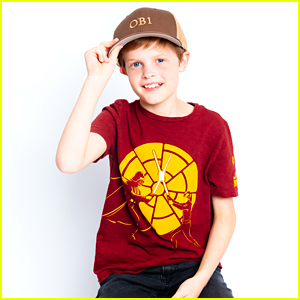 The final episode of Obi-Wan Kenobi is out now and we are getting to know one of the young actors from the show!
Grant Feely can be seen in the series as a Young Luke Skywalker.
The young actor shared with us what it was like taking on such an iconic character in the Disney+ series.
See what he told us inside…
"The experience of being young Luke Skywalker in Obi-Wan Kenobi was amazing and still feels very surreal," Grant told JJJ. "The first scene I filmed was with a large creature and it was very difficult to concentrate on my lines while watching his mustache move."
We also got to know 10 Fun Facts about Grant. Check 'em out below!
1. I was inspired to start acting while watching a behind the scenes Stranger Things show. I loved all the details of how tv shows and movies are made and knew I wanted to be a part of it.
2. I love to read and have read the "Harry Potter" series 4 times.
3. I have twin older brothers (Jeffrey and Robert).
4. I write my own short film scripts and tape them with my friends (when I can talk them into it).
5. I enjoy traveling and have visited 10 countries and 24 states.
6. I'm a better cook than my mom (but don't tell her).
7. I have 2 miniature schnauzers – Murray and Olive.
8. I learned to ski last year and have skied a black diamond slope.
9. I didn't watch any of the Star Wars movies until after I completed filming Obi-Wan Kenobi. Deb [director Deborah Chow] asked me not to because she didn't want the movies to influence my portrayal of Luke.
10. The Goonies is one of my favorite movies and I would love to star in a remake of it.
All episodes of Obi-Wan Kenobi are now streaming on Disney+!
Like Just Jared Jr. on FB