Wed, 29 June 2022 at 9:53 pm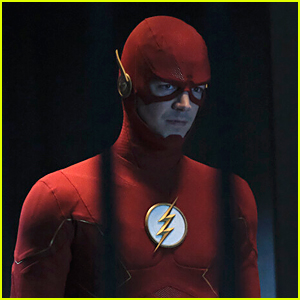 The Flash season eight finale airs TONIGHT (June 29) on The CW!
The series' showrunner Eric Wallace is opening up about why it may seem like a series finale, despite the show being picked up for another season.
In the episode, "Negative, Part Two," with The Flash (Grant Gustin) still reeling from everything that just happened, the rest of the team rallies to support him when he needs it the most.
Check out what Eric said about the finale inside…
WARNING: THIS POST MAY CONTAIN SPOILERS FOR THE FLASH SEASON 8 FINALE! Keep reading at your own risk…
"This is a finale that I literally have been driving to for several years. The original idea for the final battle between negative and positive forces [came] two years ago, when we decided to birth the positive forces way back at the end of Season 6 and the top of Season 7," Eric shared with Deadline. "So, it's been building this whole time, and we've been dropping little clues. Like we did, for example, at the end of Season 7, when Speed Force Nora said, "Hey! I just discovered negative forces. I didn't even know they existed." That was us giving you a heads up that this was coming."
"[The final cut] pretty much came out exactly as planned. The only thing that's different is, we weren't sure how many episodes we might have in Season 8, and we weren't sure if this was going to be the last season or not, when we were originally driving towards it," he said.
"When you watch this episode, there's things about it that feel really final—you know, this final battle between Barry and Thawne. That's because it was originally written to be potentially a series finale," Eric continued. "So, I think that hopefully gives some weight and drama to the fact that, 'Okay, this really is the final battle between Flash and Negative Reverse-Flash.'"
If you missed it, The Flash season nine won't premiere until midseason, with a likely early 2023 date.
Only two The Flash stars are confirmed to return next season, so far…
Like Just Jared Jr. on FB