Thu, 30 June 2022 at 1:40 pm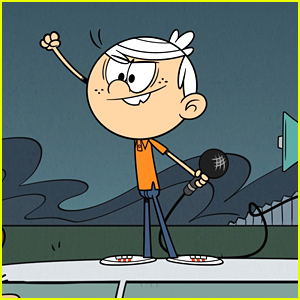 The Loud House will be airing a special new, musical episode THIS Friday (July 1)!
Nickelodeon's hit animated series' new episode, "Save the Royal Woods!," sees Royal Woods in danger of being flooded to make room for a sixth Great Lake, bringing the town together to prove that they're worth saving.
It will feature four original songs, with Christine Baranski and Yvette Nicole Brown joining the cast as Joyce Crandall (Baranski), the perky and often clueless Under Secretary of Water Leisure for the state of Michigan, and Mayor Davis (Brown), a quirky and fun working mom who loves her trademark pantsuit.
In celebration of the new episode, we got to know 10 Fun Facts about the star of the show, Bentley Griffin, who voices Lincoln Loud!
See what he revealed inside…
The Loud House will air TOMORROW (July 1) at 7pm ET/PT on Nickelodeon.
Check out Bentley's fun facts below…
1. One of my favorite things to do is read for hours and hours. I competed in my school's annual Read A Thon from kindergarten through 5th grade where I placed or won for most minutes read every year. It's one of my proudest accomplishments. In fact in 5th grade I read so much that the adults in charge didn't believe me so I wrote a statement and presented my case at a school board meeting. It ended with those adults apologizing. It felt good to stand up for myself and have the support of so many friends and family behind me.
2. I love learning about mythology and history. My favorite authors
are Rick Riordan and Stuart Gibbs. I'm saving up my money to go to Greece to learn more about mythology.
3. I am a pescatarian.
4. I love collecting rocks and gems from around the world. These are my treasures from any trip.
5. I would love to meet Mr. Beast, so I could help give money to people that need it. I love his creativity.
6. I love to sing. I had a great time performing as Michael Banks in Mary Poppins and Aladdin in Aladdin in a local theater production.
7. If I had to eat one type of food for the rest of my life, it would be Italian.
8. If I could have any superpower, it would be telekinesis.
9. If I could have any animal as a pet, I would choose a wolf.
10. I enjoy reading and writing very much, so it makes sense that my most prized possession is my collection of books.
Bonus! My perfect day would start with a breakfast burrito and end with a movie night.
Don't forget, there's also a live action The Loud House series coming to Paramount+!
Like Just Jared Jr. on FB