Mon, 11 July 2022 at 3:57 pm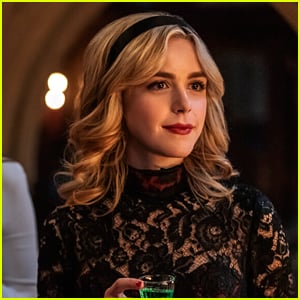 Kiernan Shipka isn't ruling out being in the final season of Riverdale!
The 22-year-old Chilling Adventures of Sabrina star has reprised her role of Sabrina Spellman a couple of times this season on The CW series.
Her latest appearance just aired last night (July 10), and she recently opened up about the episode and how she thinks she could be back in the show's upcoming final season.
Find out more inside…
In this week's episode of Riverdale, "Chapter One Hundred and Fourteen: The Witches of Riverdale," when several of their own fall prey to Percival's (Chris O'Shea) latest plan, Cheryl (Madelaine Petsch) calls upon fellow witch Sabrina Spellman (Shipka) for help.
"Yeah, she has to come back. I think they're gonna need her help again," she told TV Guide. "Like for entertainment's sake, I would say [they should] lean into the chaos—no pun intended—as much as they can and work hard and have faith that it's all gonna work out, but at the end of the day, just truly probably call Sabrina again. I think they're gonna need her, to be quite honest."
"For the final season of Riverdale, I told [Roberto Aguirre-Sacasa] whenever you need me, I'm there. I'm your girl. And besides that, I think that both Roberto and I—and I don't want to put words in his mouth—but I really do think that we're both so passionate about this character and keeping her alive and well in the zeitgeist, in the universe," Kiernan added.
"She means a lot to a lot of people, and it's fun to share her with everyone and it's really fun to not only be her, but to get people excited about her. One of the joys of doing this is sharing the work, and when people love it, you want to keep doing it," she said. "I, certainly, and I think Roberto too, want to continuously see where she could go. I truly don't know what that looks like, but I am up for it. I don't know if it's a year from now, I don't know if it's two or three, but I'm still Sabrina."
If you missed it, Riverdale's current sixth season has wrapped filming, and the seventh and final season won't go into production until later this year, for a late 2022/early 2023 premiere.
Like Just Jared Jr. on FB