Thu, 14 July 2022 at 10:39 pm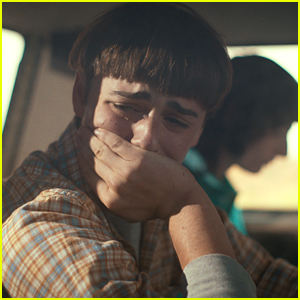 Noah Schnapp is opening up in a new interview about his character Will Byers on Stranger Things.
The 17-year-old talked about Will's journey in season four of the hit Netflix series, and how it's "100% clear that he is gay."
Previously, Noah and Millie Bobby Brown had said that Will's sexuality was "up to the audience's interpretation" and that "we don't have to label things."
"This season was a new thing for me. I had to explore him navigating his personal identity issues and struggling with growing up and assimilating into high school. It was new for me," Noah told Variety.
Keep reading inside for more from Noah Schnapp on Will's sexuality…
"I mean, it's pretty clear this season that Will has feelings for Mike (Finn Wolfhard). They've been intentionally pulling that out over the past few seasons," Noah continued. "Even in Season 1, they hinted at that and slowly, slowly grew that storyline. I think for Season 4, it was just me playing this character who loves his best friend but struggles with knowing if he'll be accepted or not, and feeling like a mistake and like he doesn't belong."
He also added that Will has always felt like that, and he's had so many people go up to him and say how they love his character and resonate with him.
Noah then said that Will being gay was hinted at in season one, and "it's always kind of there, but you never really knew."
"Now that he's gotten older, they made it a very real, obvious thing. Now it's 100% clear that he is gay and he does love Mike," the actor said. "But before, it was a slow arc. I think it is done so beautifully, because it's so easy to make a character just like all of a sudden be gay."
"People have come up to me — I was just in Paris and this, like, 40-year-old man came up to me and he was like, 'Wow, this Will character made me feel so good. And I related to it so much. That is exactly who I was when I was a kid,'" Noah shared. "That just made me so happy to hear. They are writing this real character and this real journey and real struggle and they're doing it so well."
Like Just Jared Jr. on FB