Fri, 15 July 2022 at 8:42 pm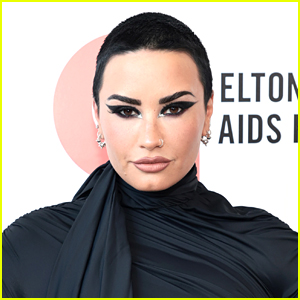 Demi Lovato is speaking out about the last album they released, Dancing with the Devil… the Art of Starting Over.
The 29-year-old "Skin of My Teeth" singer opened up in a new interview about how their upcoming album Holy Fvck is different than past projects, other than the sound.
Click inside to see what they shared…
"How it differentiates, this album I'm really proud of, and when I look back at the last album I made, it's not that I'm not proud of it, it's just I don't know who that person was," Demi shared on Audacy Check In.
"I think I was really struggling to find my identity as an artist, as a person, and now going into this album with a clear head, I was focused, I was able to write about what was important to me with being clouded by substances," they said. "So I just feel more sure of myself as a person, as an artist, and that's why I think this body of work is gonna be the one that I'm the most proud of."
Demi also talked about how this new album is a rebirth.
"(I'm) going back to my roots is obviously something that has to do with my music… like the music that I started out making, which was Pop-Rock, influenced by my Warped Tour emo days," the singer noted. "So like, bringing that back is obviously the rebirth of my music, but as a person, spiritually, everything, like I've gone through a lot and I've overcome a lot, and I feel like this is me being born again."
For more from Demi, check out their Audacy Check In interview here…
ICYMI: Check out Demi's latest single release "Substance" and check out the track list for Holy Fvck!
Like Just Jared Jr. on FB