Fri, 15 July 2022 at 7:48 pm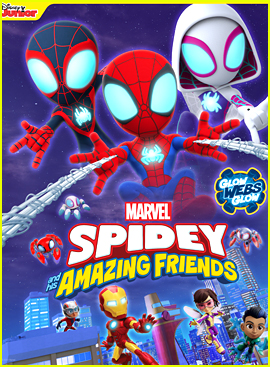 The season two premiere date has been revealed for Marvel's Spidey and His Amazing Friends!
This is Marvel's first full-length series that is specifically geared towards pre-schoolers and it was an immediate hit.
The series was quickly renewed for a second season last fall after a highly successful launch, becoming Disney Junior's #1 series after just three episodes.
See more inside…
Here's a synopsis: Our favorite neighborhood web-slinger is used to working solo, but now Peter Parker must discover what it takes to become a truly amazing super hero: being a spider friend who works well with others. Together with his friends Miles Morales and Gwen AKA Ghost-Spider, they will team up with heroes such as Hulk, Black Panther and Ms. Marvel, to defeat evil foes and learn that teamwork is the best way to save the day.
Season two will debut on Disney Channel and Disney Junior on Friday, August 19th.
Ahead of the new season, which features a "Glow Webs Glow" storyline, a collection of 10 animated shorts introducing our trio of young Super Heroes — Peter Parker, Gwen Stacy and Miles Morales — will premiere on Monday, July 18th on Disney Channel, Disney Junior, Disney Junior YouTube and Marvel HQ YouTube. They will become available on Disney+ on August 17th.
In addition, a new single, "Glow Webs Glow," has just been released, from series songwriter and composer Patrick Stump, who will also guest star as a concert announcer in a later episode. Check out the new song below!
Also joining the series as guest stars are previously announced John Stamos as Iron Man/Tony Stark and Sean Giambrone as Ant-Man, as well as Bindi Irwin as oceanographer Isla Coralton and Scott Porter as Gwen's dad, George Stacy.
Like Just Jared Jr. on FB