Mon, 18 July 2022 at 3:20 pm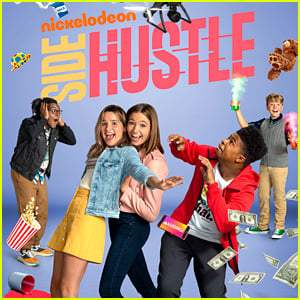 Side Hustle is sadly coming to an end.
The Nickelodeon comedy – starring Jules LeBlanc, Jayden Bartels, Isaiah Crews, Mitchell Berg and Jacques Chevelle – will not be moving forward after two seasons on the network.
The sad news was revealed on social media on Monday morning (July 18) by two of the stars, Isaiah and Mitchell.
Click inside for more…
"Hey guys, I'm here to break the bad news. Sadly, Side Hustle will not be returning for a season three," Isaiah shared in a video on Instagram. "I'm just really saddened by this news and I just wanted to tell y'all, 'Thank you.' Thank you to those who watched it, thank you to everyone on the crew who worked on it. Script supervisors, the PAs, the light guys, the sound guys, camera guys."
"Working on that show, for me, was a dream come true," he continued. "I'm always so happy when I look back and think of all the great times I had on that show, with my TV father Tedward, Daryl Brown, Presley's TV father, Kurt [Ela], Mitchell, Jayden, Jules, Jacques, Leah [Mei Gold]… Yeah, Horrigan, Reyn [Doi], everyone. Just, I love you all and it's just, thank you guys so much, for making the show a reality in the first place."
Mitchell shared on his account, "hey everyone, i'm sad to share the unfortunate news that @nicksidehustle will not be continuing. i'm really grateful to all of you fans who supported the show andmotivated me to bring my best every day. i'm also thankful to the entire cast and crew, producers, everyone at @bullockandsnowcasting, and @nickelodeon who trusted me with the character fisher. it was an incredible experience, and i can't wait to cross paths again. thank you all."
Side Hustle was renewed for a second season in September 2021, and just a few months ago, took part in a mega Nickelodeon crossover event.
Like Just Jared Jr. on FB