Fri, 22 July 2022 at 7:34 pm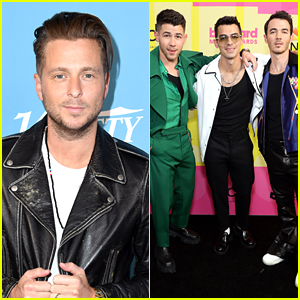 Ryan Tedder is opening up and giving an update on new Jonas Brothers music!
The brothers have been teasing that they've been working on new music quite a bit over the last few months.
Now, their producer and co-writer is clarifying and setting the record straight, saying their album is just not done.
See what he said inside…
"Uh… It's not done," Ryan told ABC Radio via 98.3 The Coast, in response to Kevin Jonas' recent comments on Live with Kelly Ryan. "I can tell you it's not completely done."
He also added that there are some great songs on the album, but things are kind of on pause right now.
"Some of the stuff that I've heard that I've worked on sounds phenomenal," Ryan shared. "I know they're going to come out strong. They're going to come out swinging. But to my knowledge, it's not finished."
The OneRepublic front man added that things are on pause with the Jonas Brothers right now after the birth of Joe and wife Sophie Turner's second child.
"I mean, look, Joe just had a baby, so … everything's been on pause for a little bit," he said. "They're definitely working right now, but everything's been on pause."
In case you missed it, see what more quotes about new Jonas music here, as well as more quotes from Nick in May.
Like Just Jared Jr. on FB