Fri, 22 July 2022 at 2:40 pm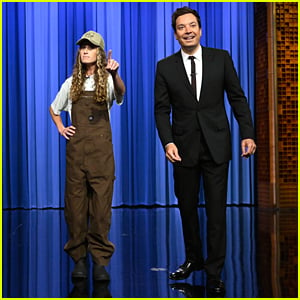 If you've been on the internet in the past week then there's a 99.9% chance you've seen a video of Taylor Blake and her emu Emmanuel!
The South Florida farmer has been going viral this week for her videos with her animals, but in particular her emu, who has a bit of a problem with cameras/phones (and buttons.)
In her videos, Taylor will be trying to educate viewers when Emmanuel comes in and she starts yelling at him, "Emmanuel, don't do it. Emmanuel, don't choose violence. Emmanuel!"
Well, on Thursday night (July 21), one of her biggest dreams came true when she made an appearance on Tonight Show Starring Jimmy Fallon!
Check out her segment inside…
While she wasn't on the show for long, appearing towards the end of his opening monologue, she did have quite the time, and even made a video with Vecna.
"Words can't describe this feeling, one of my biggest dreams has finally been fulfilled. Thank you so much @FallonTonight @jimmyfallon for having me and Emmanuel!" Taylor shared on Twitter.
"Y'all mind if I scream at the top of my lungs from the rooftop at 30 Rock?" she added. "I have peaked, I will never top this. @jimmyfallon called me funny and commented on my comedic timing multiple times. I feel like I'm DREAMING😭"
Check out her Tonight Show videos below, as well as some of her recent viral TikToks.
Like Just Jared Jr. on FB