Fri, 29 July 2022 at 6:44 pm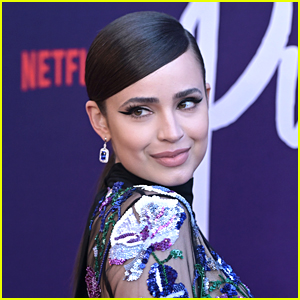 Sofia Carson not only stars in the new Netflix movie Purple Hearts, but she also wrote original music for the film!
The 29-year-old actress and singer worked with Justin Tranter, who is well known for co-writing songs for several big artists like Lady Gaga, Justin Bieber and more.
"I had, of course, been writing songs since I was eleven years old, but for myself, from my point of view… songs that came from my heart, not someone else's," Sofia told Billboard. "I was so tremendously lucky that I had Justin to be my co-writer in this process."
Keep reading for more inside…
"Sofia is one of the most dedicated and detailed creators I have ever had the joy of working with," Justin shared. "Getting to craft original songs with her and some of my Facet Publishing team that held up mirrors to the emotions of this movie was an honor."
Sofia also opened up about her writing process and tapping into her character's point of view.
"[Director] Liz asked me how I write songs and when inspiration hits. I would tell her that sometimes [I] might be driving and I have to pull over to the side of the road and start writing something down, based on something that just happened to me," she said.
"We wanted to kind of capture that essence for Cassie, that inspiration would hit based on the things that were happening to her in her life," Sofia added. "I was so lucky that I got to live with Cassie, with their love story, with the script for four years."
Check out the Purple Hearts trailer here and catch the movie streaming NOW on Netflix!
Like Just Jared Jr. on FB