Mon, 08 August 2022 at 1:29 pm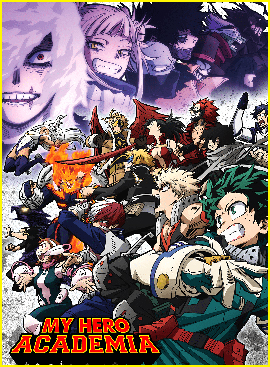 My Hero Academia season six is coming out in just a couple of months!
Crunchyroll announced that the series will debut it's new season on the streaming platform in October.
The news was revealed at Crunchyroll Expo on Friday (August 5) by the president of the anime studio BONES, Masahiko Minami.
Get more info inside…
In season six, with Bakugo and Todoroki, Deku is doing his work-study at the office of the number one hero, Endeavor. Working hard in the best possible environment, he is growing as a hero and using Blackwhip, a new Quirk that was hiding in One For All.
Meanwhile, Tomura Shigaraki from the League of Villains clashes against the Metahuman Liberation Army led by Re-Destro. While he's being driven into a corner fighting Re-Destro, he recovers forgotten memories of his terrible childhood and is awakened. He seizes the Metahuman Liberation Army, expands its influence, and now desires a new power for himself to destroy everything.
Check out the trailer below…
Also coming to Crunchyroll this October is Mob Psycho 100 III, which is also from BONES. In addition, Bungo Stray Dogs season four will come to the service in January.
Like Just Jared Jr. on FB