Mon, 22 August 2022 at 2:47 pm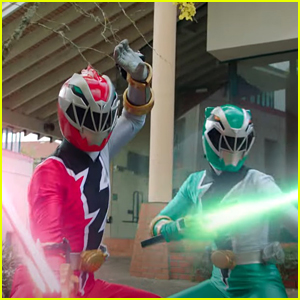 Power Rangers: Dino Fury is coming back with new episodes!
The show's second season, which is the 29th season of the Power Rangers franchise, is debuting brand new episodes to wrap up the season in September.
"We are so excited for fans to experience the final climactic episodes of season two, where all storylines and threads pay off," showrunner Simon Bennett shared in a statement. "We've packed in twists and turns, as well moments of heart between these amazing Power Rangers, and it has been so rewarding to see these characters grow over the last two years."
Find out more and watch the trailer inside…
Here's a synopsis: With the seeming defeat of the villainous Void Knight, Pine Ridge has enjoyed a period of relative calm. The Rangers have thrown themselves into their civilian lives while Zayto and Aiyon use the technology of Dinohenge to search for their home planet of Rafkon.
That's all about to change. With villains new and old gathering against them, the adventure of the Dino Fury Power Rangers is only beginning.
Russell Curry, Hunter Deno, Jordon Fite, Kai Moya, Chance Perez and Tessa Rao star as the Power Rangers.
11 new episodes of Power Rangers: Dino Fury will debut September 29th on Netflix. Check out the trailer here!
Like Just Jared Jr. on FB