Wed, 24 August 2022 at 1:16 pm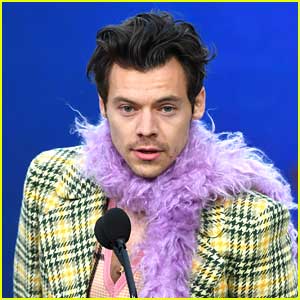 Harry Styles is opening up about writing a new song for his upcoming movie Don't Worry Darling!
The 28-year-old actor and musician, along with director/girlfriend Olivia Wilde, dished on how it came to be.
In a new interview with Variety, Olivia reveals that she wanted the cast to give creative input, and Harry offered to write the melody of the tune that is featured throughout the film.
Find out what they shared…
"In prep," Olivia told the publication, "Harry called me and said, 'What's the trigger song? Like, what's the melody?' I said, 'I don't know. I'm going to different writers to write it. Do you have anything in mind?' And he said, 'I'll think about it.'"
"Five minutes later, he sent me a demo from his piano, and it was what ended up in the film," she continued. "He called me and said, 'What about this?' And I was like, 'Yeah, that's it. That's it. And that's really insane that you did that in five minutes.'"
Harry added that he "wanted something that could be both sweet and creepy, entirely dependent on the context."
"I remember first playing it on the piano, and it had a sort of homemade nursery rhyme feel to it," Harry shared. "Applied to the different moments in the film, I think it takes on a couple of different lives — I hope."
"'Twas I, tap-dancing," he said about dancing in the movie. "I feel like I've been waiting for someone to require a 35-second tap routine from me my whole life."
If you missed it, check out the latest Don't Worry Darling trailer here!
Like Just Jared Jr. on FB