Wed, 24 August 2022 at 6:58 pm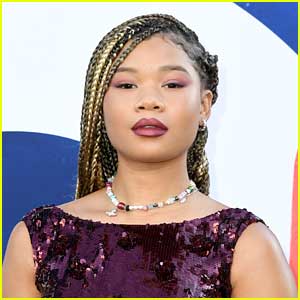 Storm Reid is opening up about going to college and being a movie/TV star at the same time!
The 19-year-old actress just started her sophomore year at USC this week.
On Tuesday night (August 23), Storm made an appearance on Jimmy Kimmel Live to promote her upcoming movie One Way, and dished on going to school.
See what she said inside…
"To be honest, it's so much. It's such a blessing to be able to do these cool things and pursue my passions and my dreams, but it was really important to me to feel like a regular teenager," Storm told guest host Lamorne Morris.
"Obviously I'm not deemed as a regular teenager, so to be able to go to school, cultivate relationships, of course further my knowledge, it's just a blessing. I'm having the best time," she said.
Storm also mentioned how the class of 2026 are big fans of Euphoria and she often gets shouted at on campus.
"It's interesting, because first semester, of course, people love Euphoria so they would come up to me about Euphoria, and it was cool, but I think, I'm not one of those people that stays like tucked in my dorm room," she said. "I'm out and about. I'm in the village. I'm on campus. So I think people got used to seeing me."
"Welcome week was obviously this week, and I forgot that class of '26 is like obsessed with Euphoria, so it's been a little hectic on campus," Storm continued. "People screaming out Euphoria, calling me Gia, but you know, I love it."
In addition to One Way, where she stars with Kevin Bacon and Machine Gun Kelly, Storm is also set to be in the upcoming The Last of Us series adaptation, season three of Euphoria, and she's starring in and producing the movie Becoming Noble.
Like Just Jared Jr. on FB