Fri, 26 August 2022 at 7:02 pm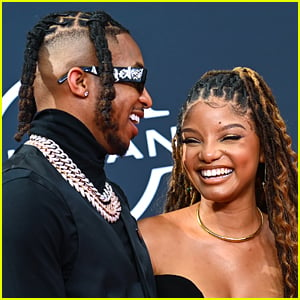 Halle Bailey is starring in her boyfriend DDG's brand new music video for "If I Want You"!
The 22-year-old actress and singer is not only playing his love interest in the visual for the song, but she also provides some backing vocals.
"everyone go watch "if i want you" by @ddg it's out now ❣️you might see a familiar face 🤭💗," she wrote on social media.
Halle recently opened up about how she met DDG and how they got together.
Click inside to read more…
"I've been a fan of his for years," she told Essence. "I grew up being on You- Tube and would always see the young Black creators and was constantly inspired by them. He was one of them."
"I completely forgot about him," Halle added. "But then I saw that he was dropping music, and I really gravitated toward this one song. Coincidentally he messaged me—and the rest is history."
Halle also admitted she's definitely in love, and that she is ignoring the haters who criticize their relationship.
"People have seen me grow up, so of course they might have something to say about how I feel or what I do with my life," she said. "I just choose not to read it. I ignore the naysayers and follow my own heart and intuition."
Like Just Jared Jr. on FB