Fri, 26 August 2022 at 1:32 pm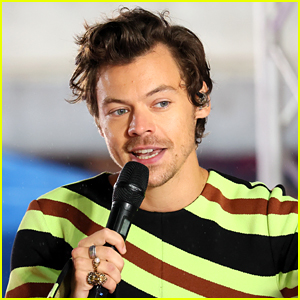 Harry Styles is adding a ton of new dates for his Love On Tour!
The 28-year-old entertainer has extended the hit tour throughout the UK and Europe, and has added more shows in the US and Brazil.
One of his dates even upgraded to a bigger venue due to audience demand!
Now, his tour will will be 83 dates, across 22 countries worldwide, including his 44 residency nights in North America the rest of this fall.
Click inside to see ALL of Harry's upcoming tour dates…
Check out every upcoming tour date for Harry Styles' Love On Tour, including all of the just announced dates, below!
HARRY STYLES LOVE ON TOUR 2022 NORTH AMERICAN DATES
Fri Aug 26 – New York, NY – Madison Square Garden is Harry's House
Sat Aug 27 – New York, NY – Madison Square Garden is Harry's House
Sun Aug 28 – New York, NY – Madison Square Garden is Harry's House
Thu Sep 01 – New York, NY – Madison Square Garden is Harry's House
Fri Sep 02 – New York, NY – Madison Square Garden is Harry's House
Sat Sep 03 – New York, NY – Madison Square Garden is Harry's House
Wed Sep 07 – New York, NY – Madison Square Garden is Harry's House
Thu Sep 08 – New York, NY – Madison Square Garden is Harry's House
Sat Sep 10 – New York, NY – Madison Square Garden is Harry's House
Wed Sep 14 – New York, NY – Madison Square Garden is Harry's House
Thu Sep 15 – New York, NY – Madison Square Garden is Harry's House
Wed Sep 21 – New York, NY – Madison Square Garden is Harry's House
Sun Sep 25 – Austin, TX – Moody Center is Harry's House
Mon Sep 26 – Austin, TX – Moody Center is Harry's House
Wed Sep 28 – Austin, TX – Moody Center is Harry's House
Thu Sep 29 – Austin, TX – Moody Center is Harry's House
Sun Oct 02 – Austin, TX – Moody Center is Harry's House
Mon Oct 03 – Austin, TX – Moody Center is Harry's House — JUST ADDED
Thu Oct 06 – Chicago, IL – United Center is Harry's House
Sat Oct 08 – Chicago, IL – United Center is Harry's House
Sun Oct 09 – Chicago, IL – United Center is Harry's House
Thu Oct 13 – Chicago, IL – United Center is Harry's House
Fri Oct 14 – Chicago, IL – United Center is Harry's House
Sat Oct 15 – Chicago, IL – United Center is Harry's House — JUST ADDED
Sun Oct 23 – Los Angeles, CA – Kia Forum is Harry's House
Mon Oct 24 – Los Angeles, CA – Kia Forum is Harry's House
Wed Oct 26 – Los Angeles, CA – Kia Forum is Harry's House
Fri Oct 28 – Los Angeles, CA – Kia Forum is Harry's House
Sat Oct 29 – Los Angeles, CA – Kia Forum is Harry's House
Mon Oct 31 – Los Angeles, CA – Kia Forum is Harry's House
Wed Nov 02 – Los Angeles, CA – Kia Forum is Harry's House
Fri Nov 04 – Los Angeles, CA – Kia Forum is Harry's House
Sat Nov 05 – Los Angeles, CA – Kia Forum is Harry's House
Mon Nov 07 – Los Angeles, CA – Kia Forum is Harry's House
Wed Nov 09 – Los Angeles, CA – Kia Forum is Harry's House
Fri Nov 11 – Los Angeles, CA – Kia Forum is Harry's House
Sat Nov 12 – Los Angeles, CA – Kia Forum is Harry's House
Mon Nov 14 – Los Angeles, CA – Kia Forum is Harry's House
Tue Nov 15 – Los Angeles, CA – Kia Forum is Harry's House
HARRY STYLES LOVE ON TOUR 2022 LATAM DATES
Sun Nov 20 – Guadalajara, Mexico – Arena VFG
Tue Nov 22 – Monterrey, Mexico – Arena Monterrey
Thu Nov 24 – Mexico City, Mexico – Foro Sol
Fri Nov 25 – Mexico City, Mexico – Foro Sol
Sun Nov 27 – Bogotá, Colombia – Parque Salitre Mágico
Tue Nov 29 – Lima, Peru – Estadio Nacional — VENUE UPGRADE
Thu Dec 01 – Santiago, Chile – Estadio Bicentenario de La Florida
Sat Dec 03 – Buenos Aires, Argentina – Estadio River Plate
Sun Dec 04 – Buenos Aires, Argentina – Estadio River Plate
Tues Dec 06 – São Paulo, Brazil – Allianz Parque
Thu Dec 08 – Rio De Janeiro, Brazil – Área Externa da Jeunesse Arena
Sat Dec 10 – Curitiba, Brazil – Pedreira Paulo Leminski
Tues Dec 13 – São Paulo, Brazil – Allianz Parque — JUST ADDED
HARRY STYLES LOVE ON TOUR 2023 AUS + NZ DATES
Mon Feb 20 – Perth, Australia – HBF Park
Fri Feb 24 – Melbourne, Australia – Marvel Stadium
Sat Feb 25 – Melbourne, Australia – Marvel Stadium
Tue Feb 28 – Gold Coast, Australia – Metricon Stadium
Fri Mar 3 – Sydney, Australia – Accor Stadium
Sat Mar 4 – Sydney, Australia – Accor Stadium
Tue Mar 7 – Auckland, New Zealand – Eden Park, Mt Smart Stadium
HARRY STYLES LOVE ON TOUR 2023 EU DATES
Sat May 13 – Horsens, Denmark – CASA Arena — JUST ADDED
Wed May 17 – Munich, Germany – Olympiastadion — JUST ADDED
Mon May 22 – Coventry, UK – Coventry Building Society Arena — JUST ADDED
Fri May 26 – Edinburgh, UK – BT Murrayfield Stadium — JUST ADDED
Thu Jun 1 – Paris, France – Stade De France — JUST ADDED
Mon Jun 5 – Amsterdam, Netherlands –Johan Cruijff Arena — JUST ADDED
Sat Jun 10 – Slane, Ireland – Slane Castle — JUST ADDED
Tue Jun 13 – London, UK – Wembley Stadium — JUST ADDED
Wed Jun 14 – London, UK – Wembley Stadium — JUST ADDED
Tue Jun 20 – Cardiff, UK – Principality Stadium — JUST ADDED
Sat Jun 24 – Werchter, Belgium – Festivalpark — JUST ADDED
Tue Jun 27 – Dusseldorf, Germany – MERKUR SPIEL-ARENA — JUST ADDED
Sun Jul 2 – Warsaw, Poland – PGE Narodowy — JUST ADDED
Wed Jul 5 – Frankfurt, Germany – Deutsche Bank Park — JUST ADDED
Sat Jul 8 – Austria, Vienna – Ernst-Happel-Stadion — JUST ADDED
Wed Jul 12 – Barcelona, Spain – Estadi Olimpic Lluis Company — JUST ADDED
Fri Jul 14 – Madrid, Spain – Nuevo Espacio Mad Cool — JUST ADDED
Tue Jul 18 – Lisbon, Portugal – Passeio Maritimo Alges — JUST ADDED
Sat Jul 22 – Reggio Emilia, Italy – RCF Arena — JUST ADDED
Like Just Jared Jr. on FB