Tue, 30 August 2022 at 2:52 pm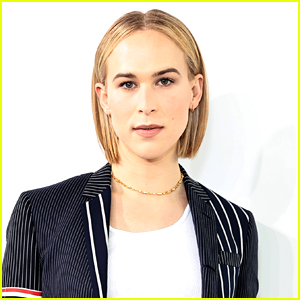 Tommy Dorfman has announced she is making her directorial debut!
The 30-year-old actress will be directing I Wish You All the Best from a script she wrote, based on the book of the same by Mason Deaver.
"I'm so excited to finally announced that I'm going to be directing my first film this fall. It's called I Wish You All the Best," Tommy shared in a video announcement on Instagram. "I also wrote this film, and I based it off of the hit novel by Mason Deaver."
In addition, she is also casting for the lead role for the film, Benjamin De Backer.
Click inside to read more…
"We are casting somebody to play a non-binary teenager in North Carolina who is coming of age and falling in love, and figuring out who they are after a tragic incident with their family," Tommy said.
"So, if you fit this description in any way shape or form, and you are interested in auditioning for this film, and you think you can play the role of Ben and carry this movie alongside some really amazing actors this fall, starting shooting in October, I believe. Then please, please, please go to Atomic Honey's casting page," she continued.
They are looking for someone to play a 17 year old, non-binary teen, who is described as "a bright, creative and introverted loner."
To submit for an audition, you can send an email to [email protected]!
Here's a synopsis of the book, via Good Reads: When Ben De Backer comes out to their parents as nonbinary, they're thrown out of their house and forced to move in with their estranged older sister, Hannah, and her husband, Thomas, whom Ben has never even met. Struggling with an anxiety disorder compounded by their parents' rejection, they come out only to Hannah, Thomas, and their therapist and try to keep a low profile in a new school.
But Ben's attempts to survive the last half of senior year unnoticed are thwarted when Nathan Allan, a funny and charismatic student, decides to take Ben under his wing. As Ben and Nathan's friendship grows, their feelings for each other begin to change, and what started as a disastrous turn of events looks like it might just be a chance to start a happier new life.
At turns heartbreaking and joyous, I Wish You All the Best is both a celebration of life, friendship, and love, and a shining example of hope in the face of adversity.
Like Just Jared Jr. on FB