Fri, 02 September 2022 at 2:49 pm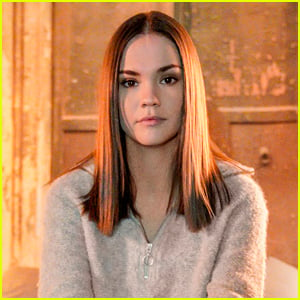 The Good Trouble season four finale just aired after quite the season!
The Freeform series will definitely be back for a fifth season, as it was announced a month ago.
At the start of the season, we said goodbye to Callie Adams-Foster, after Maia Mitchell stepped away from the show to go spend time with her family.
She then returned to LA seven months later and reunited with co-star and bestie Cierra Ramirez. Maia was also seen back on set of Good Trouble on their final day of filming season four, leading fans to wonder if she'd be back. But alas, she did not return this season, aside from a brief, virtual appearance in episode six.
Now, executive producer Joanna Johnson is teasing her return in season five!
Click inside for more…
In a new interview about the intense season four finale, she was asked about when Silas told Mariana that he sensed she was abandoned recently. "Is there still some grief over Callie leaving that Mariana hasn't dealt with?"
Joanna replied to TV Guide, "One hundred percent, yes. And you know, we haven't seen the last of Callie. I am looking forward to seeing Callie again [in Season 5] and also our Foster family again."
More Callie? More Adams-Foster family?! YES PLEASE!
This doesn't necessarily mean that Maia will be back as a series regular, but she could be in more than one episode. Only time will tell, and we look forward to finding out!
She has been spending a lot of time in Los Angeles recently though…
Like Just Jared Jr. on FB