Fri, 02 September 2022 at 7:54 pm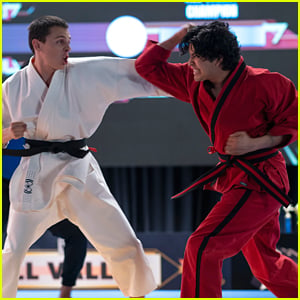 Xolo Maridueña is dishing on his Cobra Kai co-stars' skills!
In a recent interview, the 21-year-old actor, who plays Miguel on the Netflix series, was asked which of his younger castmates was the best at karate, and which of the adults is the best.
See who he said inside…
"The adults are impressive with how fluid they are with their movements," he told THR. "They stretch a bunch and it definitely translates on screen. I have the most exposure to [William Zabka, who plays Johnny] so it feels like he does really well."
"But for the kids, technique-wise and maybe technically, Tanner Buchanan (Robbie) has the most skill. He's buff as hell and super flexible. You give him a month or two to learn something and he'll have it perfect," Xolo added. "But I think Jacob Bertrand (Hawk) picks things up way quicker. He's naturally really good at putting the karate puzzle pieces together."
He also teased what he's up to in the upcoming fifth season, which premieres NEXT Friday (September 9).
"The journey Miguel is about to take is not going to be easy. He's embarking on something he knows nothing about. Whether or not it works out, my hope is he finds some answers. It's a bit surreal because I never thought the show was going to tackle this subject matter."
In case you missed it, find out what Xolo said makes his upcoming movie Blue Beetle different from other superhero movies.
Like Just Jared Jr. on FB