Mon, 05 September 2022 at 1:24 pm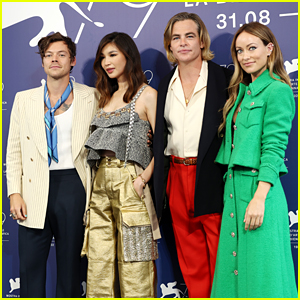 Harry Styles poses with his co-stars at the Don't Worry Darling photo call and press conference on Monday (September 5) in Venice, Italy.
The 28-year-old musician and budding actor was joined by Gemma Chan, Chris Pine and Olivia Wilde, who is of course also the film's director.
At the press conference, Harry opened up about acting.
"Music I've done a little longer so I'm a bit more comfortable. What I like about acting is I feel like I have no idea what I'm doing," he said, via Variety.
See what else Harry said inside…
"There are aspects of acting where you're drawing form experiences a bit, but for the most part you're pretending to play someone else," Harry continued. "That's what I find the most interesting about it. They can aid each other in a way. Any time you get to view the world through a different lens, it can help to create whichever way it goes. I find it really different. I think the fun part is that you never know what you're doing in either one of them."
Harry also added that it was fun to play pretend in Don't Worry Darling.
"It's fun to play in worlds that aren't necessary your own," he told reporters. "This world [of Don't Worry Darling] is supposedly so perfect; it was fun to play pretend in it. It's like driving fun cars, a lot of fun stuff as well. We were lucky to have that world built so well around us, so we could play in reality instead of pretending everything was nice."
FYI: Harry is wearing Gucci. Olivia is wearing Chanel. Gemma is wearing Louis Vuitton. Chris is wearing Giuliva Heritage.
Check out more photos of the Don't Worry Darling stars in the gallery…
Like Just Jared Jr. on FB