Tue, 06 September 2022 at 6:22 pm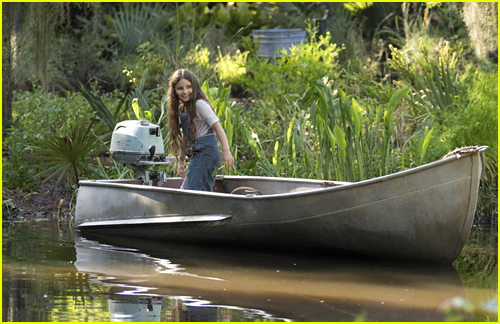 Jojo Regina's 10 Fun Facts
1. I love horses. My uncle Tom put me on my first horse when I was 3 and I've been riding ever since. I'm currently learning how to lasso.
2. My favorite color is yellow. It reminds me of the beach, the sun and lemonade, my favorite drink!
3. I spend a couple weeks every New Year's with my dad's whole family at our family's ranch, reconnecting with nature. We take walks through the woods, search for arrow heads, fish in the pond, pick wild berries, make s'mores, roast hot dogs, watch the wildlife and ride on the ATV. It's always a lot of fun!
4. My favorite movie of all time is Nacho Libre. Jack Black is hilarious! I first saw him on an episode of Yo Gabba Gabba, when I was a toddler. I love him in Jumanji and Gulliver's Travels too!
If I could only eat one food for the rest of my life, it would be sushi. It's been my favorite since I was 2.
5. In my spare time, I like to rock climb, swim, bike, collect Breyer horses and sea shells.
6. My older sister, Stella Rose, booked the first big role I ever auditioned for as Mina Aguero in The Long Road Home. Casting loved both of our auditions, but wanted the character to be older and taller, so she got the part. I was so happy for her, but it took me another 4 years to book Crawdads. Never give up!
7. My favorite toy is my new baby sister, June. I love playing with her more than anything else. She's a little firecracker, but she gives the best hugs.
8. I was stung by an Asp when I was 8. It was the most horrible pain I've ever felt. The venom traveled from my hand to my armpit and I could barely breath, so my parents rushed me to the hospital. They gave me some medicine that cured the allergic reaction, but the pain in my hand lasted for 3 days after that.
10. My favorite charities are Walgreen's Red Nose Day and Kid's Meals. They both focus on making the lives of less fortunate children better and I've done commercials for both of them.
You can now buy Where the Crawdads Sing on digital retailers, like Vudu, Google Play Movies or Prime Video. It will then be available on Blu-ray and DVD on September 13th.
Like Just Jared Jr. on FB