Tue, 20 September 2022 at 8:50 pm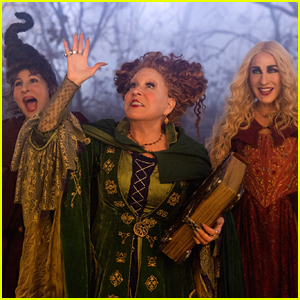 The creator of Hocus Pocus is opening up about the upcoming sequel!
David Kirschner, who came up with the original idea and serves as a producer of both movies, recently appeared on The Art of Kindness podcast with Robert Peterpaul, and dished about the Sanderson name origin, the upcoming sequel and the future of Hocus Pocus.
See what he revealed inside…
On the Sanderson Sisters' name: "It was the idea of the Sandman… When I was little the idea of the Sandman coming was terrifying to me. So the idea of that is exactly where that came from and no one in close to 30 years has ever hit upon that. I love little hidden things."
On the opening of Hocus Pocus 2: "In the sequel what you will see at the beginning is the Sanderson girls as teenagers and Winifred is just as awful before she realizes that she's a witch. It's her 16th birthday and she meets a character in the Forbidden Forest, where the Sanderson cottage is, who is played by Hannah Waddingham from Ted Lasso. She plays an elderwitch and she is the one that gives book to Winifred Sanderson so you get an idea of their background and how those powers came to be. The elderwitch recognizes in Winifred there's something very powerful. I think that will be a wonderful foundation for people to understand how the Sandersons came to be and how they got their powers and why they chose to live in the Forbidden Forest and, of course, their love for snacking on children."
On wanting to do a Buffy style Hocus Pocus series: "Underneath all of those headstones as you see when the kids run in the ceremony and they go underground [in the first film]… I wanted to really explore a world that lives beneath Salem of things that go bump in the night in a Buffy the Vampire kind of way. It's Salem for God's sakes! That's magical land – that's holy land. I absolutely would love to see that."
On wanting to do a Sanderson Sisters cartoon series: "I would love to see Disney do an animated series… I think that there would be nothing like Hocus Pocus with what we could do with creatures and werewolves and vampires and other witches – just creatures of the night – what we could bring to life. It could really be wonderful."
Check out the full The Art of Kindness podcast episode below…
Hocus Pocus 2 premieres NEXT Friday, September 30th, on Disney+. Watch the latest trailer here!
Like Just Jared Jr. on FB