Tue, 20 September 2022 at 7:48 pm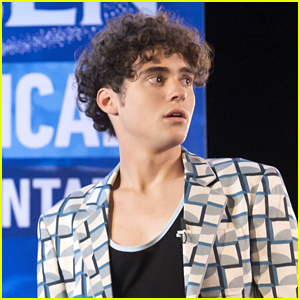 High School Musical: The Musical: The Series creator Tim Federle has had fans freaking out over the last 24 hours!
On Monday afternoon (September 19), the showrunner of the hit Disney+ series posted a rough draft of the season three finale script, which was quite different than what actually happened.
"… and this was the rough draft of the Season 3 finale*. BUT! It was time for Gina to own the narrative, and take a second chance. 💝," he captioned the post, then teasing, "*this is not canon (…or is it?)"
Click inside to read more…
In the script, Ricky (Joshua Bassett) reveals to Gina (Sofia Wylie) that he was the one who got her the box of chocolates, which was in the Valentine's Day episode of season two (S2, E3).
In that season two episode, after talking to Ricky about missing her mom for Valentine's Day and not getting a gift from her, she got a box of chocolates on her doorstep. Right after she picked up the box, she got a text from Ricky, leading her to believe they were from him.
She then goes to text him thanking him, but gets a text from her mom, who said she found a way to send them last minute. Many fans believed that it was really Ricky.
NOW, in the draft leak from season three, Ricky straight up admits, "The chocolates were from me."
"On Valentine's Day. I knew you were alone. I knew you… needed something. Or deserved something. So I called your mom. I asked her to send you them," he continues. "I didn't want to confuse you. And I was going through such a weird time with [Nini]. And I feel bad I'm saying this. But. But now I wish I'd signed the card."
In the actual episode, Gina takes the narrative and admits her feelings for Ricky, before they eventually kiss!
In case you missed it, see what Tim dished about Rina and their future in season four.
Did you see this Disney Channel star is joining season four…
Like Just Jared Jr. on FB