Fri, 23 September 2022 at 3:00 pm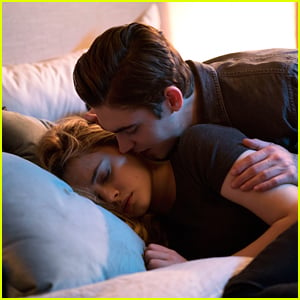 Hero Fiennes Tiffin is dishing on his favorite Hessa moment!
The 24-year-old actor recently opened up about which scene or moment between his character Hardin and Josephine Langford's Tessa in the After films he likes the most.
There are four films, so he has quite a few to choose from!
Here's what he said…
"I definitely think the bit — and I remember thinking this as soon as I read it — the bit in the bath when he writes, 'I love you' on her back and she can't guess what it is. I think that is so beautiful," Hero told TooFab.
"I think that is just such — like, I think everyone's done that game if it was their parents when they were young or like whatever, where you draw a letter on someone's back. I really like that bit. That's probably my favorite moment," he added.
If you missed it, see what Hero said was his favorite thing about working with Josephine, and what he thinks about being shipped IRL with her.
After Ever Happy, the fourth and most recent film, is out NOW on demand!
Like Just Jared Jr. on FB