Wed, 28 September 2022 at 5:44 pm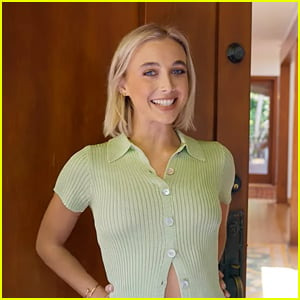 Emma Chamberlain has revealed her new house with an Architectural Digest home tour video!
The 21-year-old YouTube star showed off her house, which she helped design with Ashley Drost and Marie Trohman of Proem Studio.
"I work from home, so I wanted to create something completely personal and comfortable," Emma told AD. "I brought in references from many decades and design eras, and I tried to meld them into something that feels not only cohesive but new. It wasn't about following the rules or sticking to one aesthetic. I tried to approach it all with a lightheartedness and an open mind."
Check it out inside…
Emma's house features some eclectic furniture pieces, including a fun pink wave mirror and even corn (It's CORN!) tables in the backyard!
She also has artwork by her father displayed throughout the house.
After the Architectural Digest home tour video dropped, fans flocked to Twitter to gush about their love of her house.
"emma chamberlain's new house is insane😭 the kitchen>>>" one person wrote.
Another added, "why is emma chamberlain the only influencer who's home doesn't look like a quaalude den.. this is stunning"
"Emma Chamberlain's home in Los Angeles is just good vibes," a tweet read.
Check out for yourself in the video…
Like Just Jared Jr. on FB