Fri, 30 September 2022 at 5:56 pm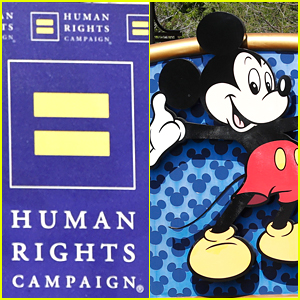 The Human Rights Campaign will be accepting a contribution from The Walt Disney Company!
Earlier this year, following the "Don't Say Gay" bill and Disney's response, CEO Bob Chapek announced they would be donating $5 million to LGBTQ+ organizations, including HRC.
Disney also later pledged they would help repeal after it was signed into law a couple weeks later.
After Bob's announcement that they would make contributions to different organizations, HRC actually turned it down.
Keep reading to find out what changed…
"The Human Rights Campaign will not accept this money from Disney until we see them build on their public commitment and work with LGBTQ+ advocates to ensure that dangerous proposals, like Florida's Don't Say Gay or Trans bill, don't become dangerous laws, and if they do, to work to get them off the books," they shared on their website.
It appears as though Disney has made that meaningful action they were looking for.
In a new statement on Friday (September 30), HRC spokeswoman Elizabeth Bibi shared they have agreed to accept after months of discussions with TWDC.
"Over the last several months, we have been having very productive conversations with Disney about the impact of anti-LGBTQ+ laws and policies and what they can do to help our community — specifically, what they can do to make the world safer and more welcoming for LGBTQ+ people, especially the youth and families currently under political attack," she said in the statement, via Variety.
"Following their shareholder meeting in March, Disney was the only major company in Florida or the entertainment industry to specifically call for a repeal of the 'Don't Say Gay or Trans' law. Disney has stood firm in their commitments to our community, and the company has taken real action to meet their employees' needs and lean into their values of diversity, equity, and inclusion."
She continued, "We're grateful for Disney's meaningful and ongoing engagement around the impact of anti-LGBTQ+ laws and policies, which builds on the company's many years of strong support for the LGBTQ+ community, and are thankful to them for their support of HRC's work."
Disney CEO Bob Chapek also apologized for the company's lack of response to the "Don't Say Gay Bill," aka the Parental Rights in Education bill.
ICYMI: Some exciting news was recently announced for Disneyland!
Like Just Jared Jr. on FB
Photos: Getty
Posted to:
Disney