Tue, 04 October 2022 at 2:49 pm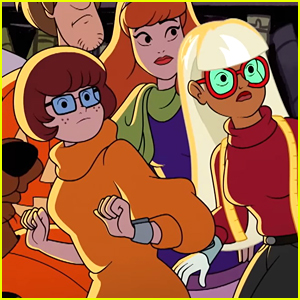 Velma Dinkley being a lesbian is officially canon in the Scooby-Doo world!
In the new Trick or Treat Scooby-Doo! Halloween movie, the character, who has long been rumored (and even confirmed, though not on screen) to be a lesbian, has eyes for another female character – fashion designer Coco Diablo.
Keep reading for more inside, and to watch videos…
James Gunn, who penned the earlier live-action Scooby-Doo movies (the ones starring Freddie Prinze Jr and Sarah Michelle Gellar), and Scooby-Doo writer/producer Tony Cervone have both said previously that Velma was gay, even though it wasn't on screen yet.
"In 2001 Velma was explicitly gay in my initial script," James said, via Variety. "But the studio just kept watering it down & watering it down, becoming ambiguous (the version shot), then nothing (the released version) & finally having a boyfriend (the sequel)."
Tony posted on Instagram in 2020, "I've said this before, but Velma in 'Mystery Incorporated' is not bi. She's gay. We always planned on Velma acting a little off and out of character when she was dating Shaggy because that relationship was wrong for her and she had unspoken difficulty with the why. There are hints about the why in that episode with the mermaid, and if you follow the entire Marcie arc it seems as clear as we could make it 10 years ago. I don't think Marcie and Velma had time to act on their feelings during the main timeline, but post reset, they are a couple. You can not like it, but this was our intention."
In the new Trick or Treat Scooby-Doo! movie, Velma can be seen ogling over Coco, and even squirmed in one scene when Coco put her hand on Velma's shoulder.
You can watch clips posted by fans on Twitter, and you can watch the full movie on digital and on demand now!
Check out the trailer below…
Like Just Jared Jr. on FB