Mon, 10 October 2022 at 7:20 pm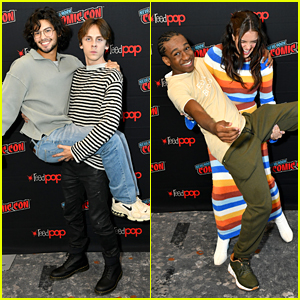 Did you know that Xolo Maridueña and Jacob Bertrand are about to be in two shows together?!
The Cobra Kai co-stars were in attendance at a panel at New York Comic Con on Sunday (October 9) for their new show Batwheels.
The guys are part of a star studded cast, which also includes Lilimar and AJ Hudson, who were also at the panel that day, along with creator Michael G Stern.
Get more info inside…
Batwheels is DC's first ever Batman preschool series "offering young viewers a high-speed, vibrant CGI-animated iteration of the Caped Crusader. Little ones and their families will ride along with an amazing team of super-vehicles—Bam (the Batmobile), Bibi (the Batgirl Cycle), Redbird (Robin's racecar), Buff (the Bat-Truck), and Batwing (the Bat-plane)—as they help Batman, Batgirl, and Robin keep the streets of Gotham City safe. Whether it's facing down the Legion of Zoom or one of Gotham City's notorious Super-Villains, the Batwheels will use their incredible gadgets and creative teamwork to save the day."
According to Cartoon Network and HBO Max, the show will teach children about what it means to be a hero, showcase the value of friendship and teamwork, and illuminate the rewards of these skillsets. It will "teach children that while each vehicle has super abilities, the more important capacities that fuel their heroism are rooted in their intrinsic character strengths, knowing how to be a good friend and ability to work as a team."
In the show, Jacob voices "Bam," Xolo voices "Snowy," Lilimar voices "Batwing" and AJ is the voice of Duke Thomas/Robin.
Other stars voicing characters include Ethan Hawke as Bruce Wayne/Batman, Leah Lewis as Cassandra Cain/Batgirl, Tom Kenny as Crash, Gina Rodriguez as Catwoman and more!
Batwheels is set to debut NEXT Monday, October 17th, with seven episodes on Cartoon Network's Cartoonito preschool block, then they will be available to stream on the Cartoonito hub on HBO Max the next day.
Check out the trailer right here!
Like Just Jared Jr. on FB