Mon, 10 October 2022 at 4:12 pm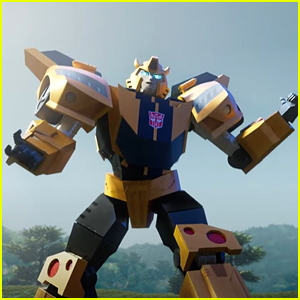 The first trailer for the upcoming new Transformers series Transformers: Earthspark debuted at New York Comic Con on Sunday (October 9).
The upcoming series introduces a new generation of Transformers robots–the first to be born on Earth–and together with the human family who welcomes them in and cares for them, they'll redefine what it means to be a family.
In addition to releasing the trailer, eight new voice cast members were revealed, joining the previously announced Sydney Mikayla, Zion Broadnax and more.
Watch the trailer and learn more inside…
The first 10 episodes of the series are set to debut in the U.S. and Canada on Friday, Nov. 11, on Paramount+.
Check out the trailer and the new voice cast/characters below…
Nolan North as Swindle and Hardtop – Swindle and Hardtop are Decepticon brothers and professional mischief makers. Swindle is the brains, a wheeler and dealer always looking to take advantage of a situation, and Hardtop is the muscle, an experienced tracker and an expert shot.
Michael T Downey as Wheeljack – Wheeljack is a resourceful mechanic and experienced scientist Autobot who spends his time working out the kinks of his most recent invention.
Marc Evan Jackson as Agent Schloder – Agent Schloder is a hard-nosed
G.H.O.S.T. operative on a mission to climb the corporate ladder to the executive suite where his sister comfortably sits.
Sean Kenin Reyes as Soundwave – A Con of few words, Soundwave maintains a cold exterior by choosing to express himself through his fists.
Nicole Dubuc as Skywarp and Nova Storm – Skywarp and Nova Storm were partners on an elite squad of Decepticons with jet alt-modes called Seekers. They've been displaced after the end of the war and are doing whatever they must to survive.
Martha Marion as Arcee – Arcee has been an Autobot for millions of years, and she's collected a wealth of experience along the way. Being on the smaller side for a bot, Arcee proves that being undersized has its own advantages.
Kari Wahlgren as Executive Agent Croft – Intelligent, a master planner, and the woman pulling the strings of the Autobots, Croft has a far more nefarious scheme than any Decepticon.
Daran Norris as Mr. Smelt – Mr. Smelt is Witwicky Charter School's frustrated drama teacher, who will never surrender his dreams of starring on stage and screen.
Like Just Jared Jr. on FB