Thu, 20 October 2022 at 7:30 pm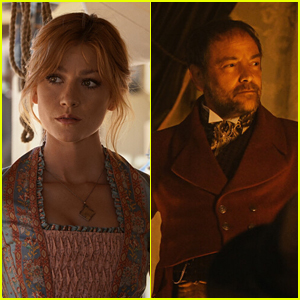 Katherine McNamara is gushing over Mark Sheppard!
The Supernatural actor has appeared on the first two episodes of Walker Independence (so far), but the cast wants to have him on even more.
In a recent interview, Katherine opened up about her love of the actor and what it's like having him on set.
Find out what she said inside…
"I have [worked with him], minimally. Honestly, I always want more Mark Sheppard in my life. It's one of those things. We all do," she told Looper.
"We all beg for him, more and more of him on the show. He has a good time," she continued. "It's really lovely to see someone who has all of the stories in the world and so much experience genuinely come and want to play with all of us because that's very much the sense of collaboration on our show."
She even praised having him on set and the vibes he brings.
"[We're all] trying to tell a great story, push each other to do something different, and grow and change every day," Katherine said. "Mark does that. He comes in with great ideas, a wonderful character, and great experience that it's a real joy. I don't know what I can tease much about his character, other than [it's] the best of Mark Sheppard, but with a little flavor of the West thrown in."
Don't forget, Walker Independence is all new TONIGHT (October 20) at 9pm ET/PT on The CW.
In the episode titled "Blood & Whiskey," presented with a challenge, Abby (McNamara) cleverly uncovers an opportunity to undermine the Sheriff (Greg Hovanessian). Hoyt (Matt Barr) grows tired of playing second fiddle to Calian (Justin Johnson Cortez) in the eyes of Lucia's (Gabriela Quezada) family before the two must work together to fend off a team of bandits.
Calian's drive to help, however, may jeopardize his standing within his tribe. Kate (Katie Findlay) is relentless in her pursuit of information on Abby, Kai (Lawrence Kao) once again proves himself invaluable, and Gus (Philemon Chambers) grapples with the trauma that comes with wearing the badge.
ICYMI: Katherine recently revealed what her favorite thing about the show is.
Like Just Jared Jr. on FB