Mon, 07 November 2022 at 3:46 pm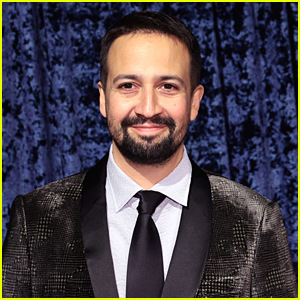 Lin-Manuel Miranda is the latest big name to join the upcoming Percy Jackson series!
The Broadway star was just announced to be cast in Disney+'s Percy Jackson and the Olympians, Deadline confirms.
Shortly before the casting announcement, author and executive producer Rick Riordan teased that an announcement was coming on Monday (November 7) with a video on his Instagram.
Get all the details on his role inside…
Lin-Manuel has been cast to portray Hermes, "the messenger god who looks out for travelers and thieves, and is a bit of a trickster himself. He is charismatic & boisterous, the life of the party. Unfortunately, his charm does not do much to heal his strained relationship with his son, Luke (Charlie Bushnell). He's hesitant to help Percy and his friends on their quest as sometimes getting involved is more trouble than it's worth."
Lin-Manuel actually filmed last week.
"Last week, we had the absolute pleasure of hosting Lin-Manuel on set. I have, of course, been a fan for years, and we'd corresponded a few times since his son and he are both fans of the Percy Jackson books, but this was the first time I'd gotten to meet him in person," Rick wrote on his website. "It's always wonderful when someone so multi-talented and wildly successful turns out to be also a genuinely nice and decent person. Lin-Manuel is that kind of guy."
He also addressed the fact that Hermes doesn't appear until book two.
"You are correct. But remember when I told you we are adding new glimpses of backstory, Easter eggs, and other nuances to enhance the narrative while remaining true to the original storyline? This is a prime example. When you see the episode in question, it will make sense why we introduced Hermes early…" he wrote.
He also added that once they wrote Hermes' lines, he "could not get Lin-Manuel Miranda's voice out of my head. I knew he would be the perfect person to bring Hermes to life in all his complex glory. I figured it was a long shot. Lin-Manuel is a busy guy!"
Rick got some encouragement from the showrunner, reached out and of course he said yes!
Less than a month ago, the upcoming series, which is currently in production, announced more stars who joined the cast. See the full cast list right here!
If you missed it, Rick recently announced a brand new Percy Jackson book is in the works.
Lin-Manuel is no stranger to Disney, having worked on the music for Encanto, the upcoming live-action The Little Mermaid, Star Wars: The Force Awakens and Moana. He's also appeared in Mary Poppins Returns and as the voice of Fenton Crackshell-Cabrera/GizmoDuck in the DuckTales. Plus, the recorded version of his musical Hamilton streams on Disney+!
Like Just Jared Jr. on FB