Mon, 07 November 2022 at 4:23 pm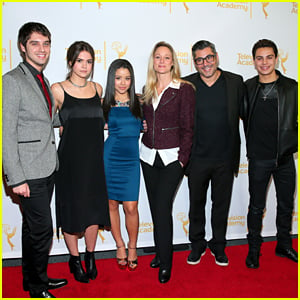 A big anniversary just happened this past weekend for fan-favorite series The Fosters!
Co-creator, writer, executive producer, director Bradley Bredeweg shared on social media that it has been 10 years since the first day of filming the ABC Family / Freeform series.
The hit show premiered on June 3, 2013 and ended June 6, 2018 after five seasons.
It followed a multi-ethnic family with a mix of foster and biological kids being raised by two moms. Stef Foster, a dedicated police officer, and her partner Lena Adams, a school Vice Principal, have built a strong family with Stef's biological son from a previous marriage, Brandon, and their adopted twins, Mariana and Jesus. Their lives are turned upside down when Lina meets Callie, a teen with an abusive past who has spent her life in foster homes. Lena and Stef decide to welcome Callie into their home thinking it will be temporary.
"I can't believe I'm about to type these words: TEN YEARS AGO on this very day #TheFosters was born! I've never been more proud of anything in my life," he wrote on Saturday (November 5).
Some of the stars of both The Fosters and it's spinoff Good Trouble took to the comments to react.
See what they said inside…
Cierra Ramirez, who plays Mariana Adams Foster, wrote, "10 years ago?!?! seems like just yesterday 🥹 💗"
Maia Mitchell (Callie Adams Foster) simply left three emojis, "🥹 😭 😍"
Teri Polo (Stef Adams Foster) said, "Never more proud than to have assisted with the birth…😌🙌❤️"
"❤️❤️❤️ One of my greatest pleasures," wrote Brandon Quinn, who played Gabe Duncroft, Jesus and Mariana's biological father.
From Good Trouble, Molly McCook, Kara Wang, Priscilla Quintana and Constance Zimmer all left comments.
"❤️❤️❤️ the most special," Molly (Rebecca) said.
"😱😱😱 incredible," Kara (Sumi Liu) said.
Constance (Kathleen Gale) commented four hand clapping emojis, while Priscilla (Isabella Tavez) dropped a "🙌"
If you missed it, Good Trouble has been renewed for a fifth season and there's a possibility that Maia could come back, if for just one episode!
Like Just Jared Jr. on FB
Photos: Getty
Posted to:
Bradley Bredeweg
,
Brandon Quinn
,
Cierra Ramirez
,
Constance Zimmer
,
Good Trouble
,
Kara Wang
,
Maia Mitchell
,
Molly McCook
,
Priscilla Quintana
,
Teri Polo
,
The Fosters