Fri, 11 November 2022 at 3:57 pm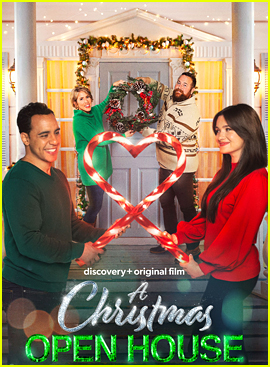 Katie Stevens is starring in a brand new Christmas movie for Discovery+!
The former The Bold Type star, who just announced she's expecting her first child, stars in A Christmas Open House alongside Victor Rasuk and HGTV's Ben and Erin Napier.
"Had the best time shooting this Christmas movie in the summer, with the most amazing cast and crew," Katie shared on her Instagram story.
This is one of four new holiday movies for the streamer that feature cameos from top HGTV and Food Network stars. See more on Just Jared!
Learn more and watch the trailer for A Christmas Open House…
Here's a synopsis: Melissa Norwood (Stevens) has been building her career as a property stager in Atlanta, with hopes of opening her own business someday soon. Melissa specializes in making spaces appealing to buyers by removing anything too personal, but when she teams with realtor David Phelps (Rasuk) to stage her own childhood home, getting too personal is something she may not be able to avoid.
When Melissa returns to her hometown of Rutledge, Georgia, for her mom's wedding, she is blindsided by the news that her mother is selling the house in which she grew up…and her realtor is none other than David Phelps, the guy she had a crush on all through school. But that was then, and now she is focused on staging her cozy but outdated family home to help David sell it to the right buyer.
The two agree to work together, though Melissa's clean, modern style clashes with the small-town charm David thinks will sell in Rutledge. One thing they do agree on is the addition of custom pieces, uniquely crafted by David's artisan friends, Henry and Sarah Wright (the Napiers), to add warmth and character to the space.
As Melissa and David transform the home, the undeniable sparks between them rekindle feelings Melissa thought were long past. But since her career dreams are in Atlanta and David is settled in Rutledge, their budding romance may be over before it even starts.
Also starring are Monica Garcia Bradley as Melissa's best friend, Gloria; Bobbi Eakes as Melissa's mom, Janice; James Healy Jr. as Janice's new husband, Teddy Lee; Zachariah Rogers as Gloria's husband, Ray; Byron Mitchell Wigfall as James, the owner of a local boutique eatery; Josh Henry as James's husband, Taylor; and Katy Wilson as the town gossip, Ashley.
Check out A Christmas Open House, streaming NOW on Discovery+!
Like Just Jared Jr. on FB