Thu, 17 November 2022 at 6:59 pm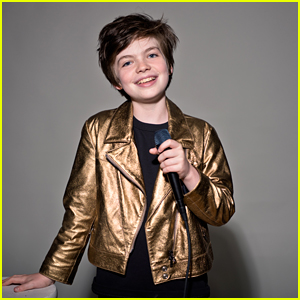 Maxim Swinton is starring in the new mini series Fleishman Is In Trouble!
The young actor and comedian can be seen portraying Solly, one of the Fleishman's precocious children. Playing his parents are Jesse Eisinberg and Claire Danes!
Fleishman Is In Trouble is based on the novel of the same name by Taffy Brodesser-Akner and follows a Manhattan couple; Toby Fleishman (Eisenberg) and Rachel (Danes) who have recently gone through a messy divorce. When Rachel disappears without notice, Toby must figure out how to balance raising the kids, dating again, and his career.
We caught up with Maxim and got to know 10 Fun Facts about him.
Find out what he shared inside…
Check out the Fleishman Is In Trouble trailer and his fun facts below!
Maxim Swinton – 10 Fun Facts
1. I have grown up in a true multigenerational, multilingual household. My grandparents lived with us for many years and we speak Russian with them since they immigrated from Latvia!
2. I speak fluent Russian and once a year I sing some Russian pop songs in my Russian class show.
3. When I was six I was on Little Big Shots showing off my Rube Goldberg machine, which is a complex machine that gives a ball to Rufus, my dog.
4. I am an adventurous eater and when I can, I love trying tasting menus! I have eaten at two, TWO Michelin starred restaurants – and I love getting to meet the chefs and explore the kitchens! These meals are so creative and unusual – theatre that you can eat!
5. My bedtime routine – brush teeth, watch a couple math videos on YouTube, play Beatles, Pink Floyd, Beethoven, Queen. Some nights my dad reads me some science articles.
6. I love climbing, ping pong, and skiing. We ski in the Rockies when we can get there – its where my dad is from – Calgary, Alberta.
7. I got to go sledding down the side of a dormant volcano in Nicaragua from top to bottom!
8. During the pandemic we had the chance to move to a few places including the desert in Arizona, the beach in the Dominican Republic, Los Angeles, and Maine!
9. I got to sing "New York State of Mind" backed by the one and only Richie Cannata on sax at the Bitter End club in Manhattan (Richie backed Billy Joel on the original recording)!
10. I perform standup comedy, along with my mom, in comedy clubs in Manhattan and across North America! I am always the only kid there when I perform (when they let me in…).
If you didn't know, Maxim's older sister Alexa is also an actor. She currently plays Charlotte's child Rock in And Just Like That…, which will be back for a second season. Get to know 10 Fun Facts about her here!
Like Just Jared Jr. on FB