Mon, 28 November 2022 at 12:57 pm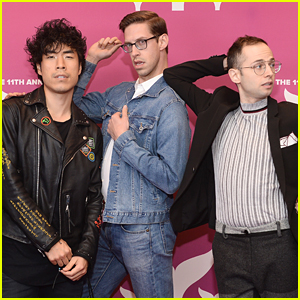 The Try Guys are opening up in their first major interview following the Ned Fulmer scandal earlier this fall.
Eugene Lee Yang, Keith Habersberger and Zach Kornfeld spoke about their reaction to what happened, their newfound level of fame from the scandal and more.
One main topic the guys talked about was what's next for them as a trio and what fans can expect from their upcoming new content post-Ned.
See what they shared inside…
"We're still continuing our company [moving] forward and I think, over time, in the next years, the Try Guys [will change] what it looks like. Maybe there's more of us. Maybe it's less specific to just the three of us," Keith shared with THR. "At the heart of it, our show is about people experiencing things they have never experienced before. [It's about] having an open mind and having a fun time doing it, and being OK to fail at it. I think as long as that ethos and message goes on through our content, the Try Guys being Keith, Zach and Eugene is less important than the Try Guys being a cast of people that helps other people learn about other people … without saying the same phrase five times."
He continued, "But that is the core of it. The three of us have, for a long time, been interested in evolving as artists, evolving as a collective. What we're focused on right now is figuring out ways to make what we make cooler and change it up."
Coming up for the Try Guys is a live stream event, where they will produce and compete in a live Without a Recipe streaming event. They will be making churros, or rather attempting to, with fans getting to vote who wins. "We're doing something very broadcast television [caliber] on our own, and it's really exciting," Keith said.
Following their Food Network series, No-Recipe Road Trip with the Try Guys, will they do more broadcast TV?
"Without a Recipe is as good as anything on broadcast TV. That's our real, honest opinion. Our primary focus right now for the [YouTube] channel is to continue to elevate what we make. We want it to not feel like content," Zach said. "Content online is something that passes through you. You watch it, you forget it. It's fun, it's fine. We've made content for a long time out of necessity. But as we look forward to the future, I think it's time to really focus in on what we do best and what makes us happiest — just making these high-tier shows."
The guys add that they will continue making their Try Guys content, but also continuing to work on individual projects as well.
"We're going to be working as hard as we've ever been, but I don't know if the number of releases will look the same or the number of projects," Keith says. "I think it's important to us to invest time and energy and passion into what makes us happy and what we think our fans will like. And sometimes some of those things take more time."
Zach adds, "Keith is putting up an off-Broadway show in the new year. I'm working on a short film and other scripted projects. Eugene is working on a suite of projects himself. We want to find ways for the company to evolve with us and support those projects. We also want to give ourselves room to grow as individuals, and then we want the collective to be able to be this Voltron where we come together and create things that we couldn't create on our own."
RELATED:
Like Just Jared Jr. on FB