Fri, 02 December 2022 at 12:23 pm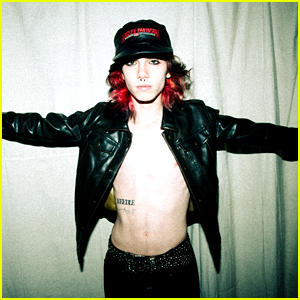 Baby Fisher just premiered his first ever song and music video "This is the End"!
The 17-year-old has gained quite the presence and a growing following on TikTok, showing off his musical talent, and now, his own original music is finally out.
"Can't believe my first song comes out at midnight tonight," he shared in a TikTok ahead of the release. "Life is crazy. All my love for everyone who's supported me."
To celebrate his first release, we caught up with Baby Fisher and got to know 10 Fun Facts about the singer/songwriter.
Check out his fun facts and "This is the End" inside…
Check out "This is the End" and his fun facts below…
Baby Fisher – 10 Fun Facts
1. I started playing music at blues bars – I got my start playing with older blues players who were hired guns. They played with Elvis, The Beatles, Etta James, James Brown and everyone big. They taught me everything. I would play with them multiple times a week when I was 12-15. My roots are all blues. They taught me how to play guitar, they taught me how to sing. They guided me directly to where I am now. I owe every bit of my music to them.
2. I make all my clothes – The way I think about it, no one sells the clothes I want so I just make them. I started making clothes over the pandemic and never stopped. I go to thrift stores and warehouses and buy clothes by the pound and cut them up and turn them into more clothes. Sewing has become a massive part of me and my artistry.
3. I'm originally from Los Angeles – I was raised in Van Nuys and moved to Burbank when I was 10. I love it here. Not sure if I could ever leave. Being raised in LA was enjoyable. People always ask me what it's like but I don't know how to describe it because I can't compare it to anything else. It's home.
4. I can speak Pig Latin – My mom speaks Pig Latin and taught me when I was younger, it kinda just stuck. In elementary school we had a class talent show and it was the talent I showed off. I didn't win but it makes for a decent story.
5. My new song "This Is The End" was written when I was 14 – It's my most meaningful song, wrote when I was 14, recorded at 15. I recorded the first half while I was madly in love with my girlfriend at the time and the second half the day she dumped me. I feel like there's a clear tonal difference on the song where it turns from reflective to somber. I adore it. It's the end of my childhood. It's a perfect time stamp of where I was in my life at the time, and while I may make much different music now, it still will be my first favorite song.
6. My biggest influences are Bob Dylan, Jim Morrison, Marc Bolan, and James Brown – Jim Morrison influences everything I make. I used to think I was reincarnated Jim in middle school. By far my biggest influence. No artist has ever effected and swayed me in the way Jim Morrison has. Forever my biggest influence.
7. I can swing dance mediocrely well – I adore swing dancing, both my parents do it and I learned at a young age. I can't dance for shit normally but I can swing dance kinda well.
8. I drive a 1973 Dodge Dart swinger and a minivan – It's my baby. My 1973 Dodge Dart swinger. I bought it broken down and put a new engine and everything else under the hood in it. It's my daily driver. I also have a 2006 minivan named Beatrice AKA Tony Honk. My dart is THE FISHMOBILE. My dart is my pride and joy. Maybe my favorite thing I own besides my dog and guitar. I love that car more than life itself. My favorite prop for photoshoots.
9. I'm a massive book fan – My favorite is "Love is a Dog From Hell" by Charles Bukowski. I adore "A Tree Grows in Brooklyn" and many of the classics. My mom is an author so books have always been a massive part of my life. From Aleister Crowley to Bukowski, every one of my favorite books has become an inspiration on my music. Especially Bukowski.
10. I raised 12 quails – I bought an egg incubator over covid and incubated quail eggs, hatched them, raised them and released them. My favorite was the only female, her name was Sydney Vicious. I really hope she's doing well. I miss her tons.
Like Just Jared Jr. on FB