Fri, 09 December 2022 at 6:14 pm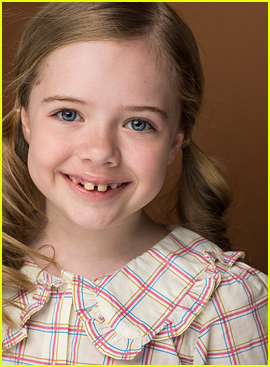 Julianna Layne is a scene stealer in her new movie A Christmas Story Christmas!
The young actress plays Julie, the daughter of original A Christmas Story actor Peter Billingsley's Ralphie.
In the sequel, set several years later, Ralphie is all grown up and must deal with Christmas and all that comes with it…as a dad.
Find out more about her inside…
We caught up with Julianna and got to know 10 Fun Facts about her. Check 'em out below…
Julianna Layne – 10 Fun Facts
1. I am very adventurous for an 8 year old when it comes to trying new foods! While I was in Bulgaria, I loved trying all of the different cultural foods. I even tried chicken hearts, and beef tongue! If you haven't guessed by now, I will honestly try anything! Mr. Peter Billinglsey would take myself and our set family to try authentic foods and experiences. It was very special, and something I will always remember and treasure forever about filming A Christmas Story Christmas! I also loved immersing myself in learning Bulgarian, especially our polite phrases to connect with our crew. I even learned how to write my name using the Cyrillic alphabet!
2. I absolutely love to travel! My first time traveling internationally was to Sofia, Bulgaria for the filming of A Christmas Story Christmas. I lived there for 3 whole months, and oh do I love Europe! I've also traveled from coast to coast within the United States. It has been a great experience seeing new places!
3. I bring my own tears to set with me. I've never used fake tears in my scenes. When I have a really emotional scene, I put myself into my character's perspective to back the emotion in a scene. While filming A Christmas Story Christmas, our incredible director and cast all joked with me and asked if I had a water tube dropping down those tears. They call me "The Tear Machine". I also tapped into my emotional range in an upcoming feature where I play a cancer patient.
4. I'd consider myself fearless because I love to do my own stunts! An iconic part of A Christmas Story Christmas is when my character Julie gets hit in the eye with a snowball. I worked with a stunt coordinator to learn how to create that fall from the tree stump. That was all me! Another stunt I did in an upcoming film was work on the rooftop of a skyscraper! It was really awesome!
5. I'm often referred to as "The Christmas Kid"! I have 3 Christmas films being released this year! I was even lucky enough to work with the King of Christmas himself, Mr. Michael Bublé. I worked with him on his NBC Christmas Special, Christmas in The City. I've also been in a holiday skit on SNL! My biggest dream is to host SNL one day!
6. I love working with animals on set! I've worked with dogs, horses, snakes, and a mouse! Although I did get the Bumpus Bloodhound Puppy fired in A Christmas Story Christmas because he was too heavy to carry. That puppy was replaced with the "adorable little puppy" as Julie says that you see in our film!
7. Hair and Makeup is one of my favorite places on set! I love learning about special effects makeup. In an upcoming film, I spent 3-4 hours a day in the hair and makeup chair! If you're in the hair and makeup trailer with me, be prepared to be interviewed because I love learning about everyone I meet on set!
8. I have a 4 pound red poodle named Lulu! I named her after the character in the Broadway show Waitress. I made my Broadway Debut at 4 in Waitress the Musical Karaoke night! I performed alongside such greats as Sara Bareilles and Jordin Sparks!
9. I love to swim! I actually learned how to during a commercial shoot for Lake George. I jumped right into the lake when the director yelled ACTION, and I have loved to swim ever since!
10. I've been so fortunate to be able to bring to life so many uniquely different characters ranging from dramatic to comedic throughout the years! I hope my next role allows me to take on a character in the horror genre.
Go check out Julianna Layne in A Christmas Story Christmas, now streaming on HBO Max!
Like Just Jared Jr. on FB