Thu, 15 December 2022 at 1:41 pm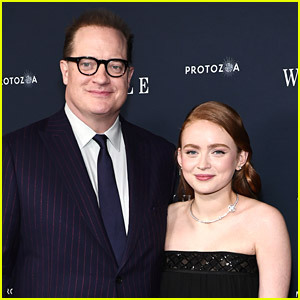 Sadie Sink is opening up about the controversy surrounding her latest movie The Whale.
The 20-year-old actress stars as Ellie, the estranged teenage daughter of Brendan Fraser's Charlie.
She describes her character as "twisted, but in a lot of pain," and that "she is a good person but that's the last thing she wants you to see. And she makes a point of being feared, essentially."
The movie has received backlash for Brendan's weight gain and prosthetics, and Sadie shared her response to those critics in a new interview.
Click inside to see what she said…
"I would say watch the movie. The title is a reference to 'Moby Dick' by Herman Melville, which is a key part of the movie. And I think what our movie is truly about — it's Charlie's story. It's not a universal story. It's one specific story," Sadie told InStyle. "Ultimately, what we're trying to do is really teach people to look past their preconceived notions. Hopefully, by the end of it, you'll see Charlie for who he truly is. You'll see Ellie for who she truly is. You'll understand Liz, and you'll see Thomas. And that's the point. Just to find the humanity."
She also opened up about working with Brendan, and admiring his commitment to the role.
"What was more interesting to see wasn't really the physical transformation, but it was mostly the mental transformation that we all kind of saw," she said. "We'd been rehearsing for three weeks, but it wasn't until he was fully in the prosthetics where something clicked. And I don't know if it's just because it just completed the character, so it made everything just feel, I don't know … a lot more. Something just clicked, and it just felt real, and there he was. So, that was the most impressive thing to see."
The Whale is out in theaters now.
If you missed it, Sadie is nominated for Favorite Young Actress at the 2022 Just Jared Jr Fan Awards!
Like Just Jared Jr. on FB