Sun, 18 December 2022 at 2:02 am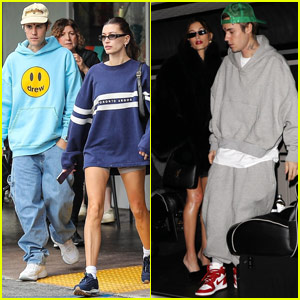 Justin Bieber had fans wondering if he was showing off some new tattoos when he and Hailey Bieber spent all of Saturday (December 17) on a date.
The 28-year-old "Peaches" star stepped out for brunch at the Beverly Glen Deli in Los Angeles with his 26-year-old wife. Fans noticed a couple of star-shaped stickers on his face. In several photos they look like they might be tattoos; however, they appeared to shift around on his face during the day.
Before brunch, they took a hot yoga class!
Later in the day, Hailey and Justin changed and grabbed dinner at Catch Steak LA in West Hollywood, Calif. From there, they headed to Jack Bia's holiday party.
For their evening together, Hailey wore a short black jacket. Justin went more casual, pairing a bright green cap with oversized sweatpants and a matching hoodie.
The couple was spotted out in West Hollywood earlier this week where they grabbed dinner with a famous pal.
Check out the latest pics of Justin and Hailey Bieber in the gallery…
Like Just Jared Jr. on FB