Thu, 29 December 2022 at 8:51 pm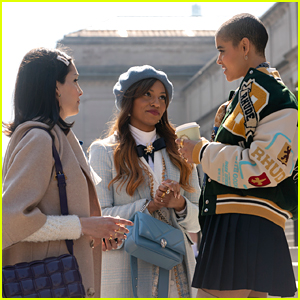 Gossip Girl showrunner Joshua Safran opens up about the end of the current second season.
In a new interview, the executive teased that there are in fact cliffhangers at the end of the season.
"Unfortunately, or fortunately, we had cliffhangers," he teased to ScreenRant.
Find out what he said inside…
"But they're cliffhangers in which I think if it were to end, you could make connections as an audience member, 'Oh okay, I get that.' I don't know how to explain it. You'll have to wait till you see it," Joshua continued. "But it's not like, 'Oh no, Chuck has been shot. Is he gonna die?' Nothing like that. It's more like, 'Oh wait, there's more.'"
He adds, "I guess I'll put it this way: it was setting up stories for season 3, and I think your brain can fill in where the stories would go. It isn't like somebody's face is hanging in the balance."
While the show has not yet been renewed for a third season, Joshua has been urging viewers on social media to keep streaming so they have a much better chance.
"No idea. All I know is that the landscape is shifting pretty rapidly, and Gossip Girl is a very expensive show. I'm very grateful for the ability to have it be as expensive as it looks; to use the locations, the clothes and get the actors. But it does make it, in today's new streaming economy, an uphill battle," he told ScreenRant about the possibility of a season three.
"But I'm very proud of the season; I think it's better than the last. I think it stands up against old Gossip Girl; I think the characters really come into their own," Joshua continued. "If this is the end, myself, all the EPs, writers and the cast would be so sad. Because we all believe there's so much left in these characters. I would hate it if this was the end. I wish I had an answer for you, but I think we'll know sometime in January."
HBO and HBO Max have canceled several shows this year, but we're really holding out for another season of Gossip Girl!
If you missed it, the latest episode saw the return of two characters from the OG series.
Click through the gallery to see stills from the most recent episode…
Like Just Jared Jr. on FB