Mon, 02 January 2023 at 2:46 pm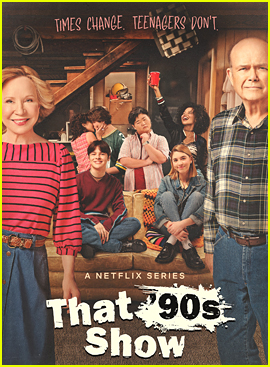 We are just a couple of weeks from the premiere of That '90s Show!
The upcoming Netflix series is a sequel to the hit comedy That '70s Show and centers on a new group of teenagers in the fictional Point Place, Wisconsin.
In the new show, we pick up in 1995 with the daughter of Eric and Donna, Leia Forman, who is visiting her grandparents for the summer. She bonds with a new generation of Point Place kids under the watchful eye of Kitty and the stern glare of Red. Sex, drugs and rock 'n roll never dies, it just changes clothes.
Previously, several of the original '70s Show stars have been confirmed to be returning, including of course Kurtwood Smith and Debra Jo Rupp as Red and Kitty Foreman.
Now, we have confirmation of another star from the original show making a comeback!
Get the scoop inside…
Don Stark will be reprising his role as Bob Pinciotti, Donna's dad and now Leia's grandfather.
"I had family saying, 'Oh, wow, that's great,' and I said, 'Let's just pump the brakes because you don't know exactly what this means,'" he told EW. "It was a long time before I was approached on whether or not I would be coming back, so when they let me know, I was really excited about that and to see everybody again."
"They had to build all new sets but they looked exactly like they were back then. It was just like going home," Don added. "It was amazing, it really brought back a flood of wonderful memories. All the young people who were in the new cast were terrific, and it mirrored what it was like when we started."
Click through the gallery to see photos from his appearance…
That '90s Show will premiere on January 19th on Netflix. Check out the trailer here!
Like Just Jared Jr. on FB