Tue, 03 January 2023 at 4:09 pm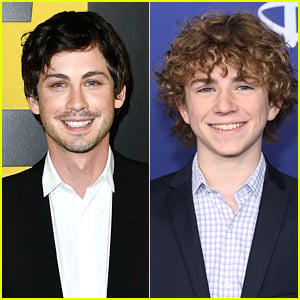 Logan Lerman is opening up more about the upcoming Percy Jackson and the Olympians series!
The 30-year-old actor, who played the titular role in the previous movies, has shared what he thinks about the new Disney+ series version.
He also revealed any advice he has for Walker Scobell, who will be playing Percy in the show.
Find out what he said inside..
"Obviously, it's [Percy author & series executive producer] Rick Riordan. It's going to be exactly what it should be and I hope the fans like it," he told ComicBook.com. "I'll definitely watch it. I'm curious to see what they do with it. I have no doubt that it's going to be great. It's going to be fantastic, I'm sure."
Did you see the first teaser for the Percy Jackson series?!
As for if he had any advice for Walker, Logan basically said no.
"I don't think he needs any advice," he shared. "The kid's really talented."
Logan added, "I think when you're young, at least when I was younger doing it, and other actors, you almost forget to enjoy it as you're a part of the thing, which I did… I really enjoyed it while I was doing it."
"Just take each second in and enjoy the newness of what you're doing and being a part of something like that. That would be the only thing I would tell him. But even then, I'd feel like a bit of a schmuck, giving him advice. You're great. You're there for a reason. Just do your job," he concluded.
If you missed it, see what Logan had to say about possibly making a cameo in the series…
Author Rick Riordan revealed back in October that he's writing a brand new "Percy Jackson and the Olympians" book – Get more info!
Like Just Jared Jr. on FB