Wed, 11 January 2023 at 7:27 pm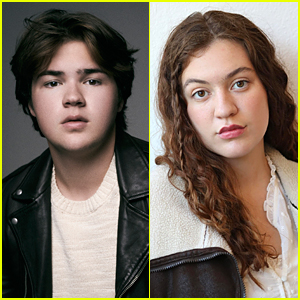 Maxwell Acee Donovan and his sister Clare Margaret Donovan are launching their own non-profit foundation!
The That '90s Show star and his actress sibling have teamed up to start Nature's Negotiators, and have enlisted Just Jared Jr to exclusively reveal the news.
Find out more inside…
Maxwell and Clare's new non-profit will focus on conservation issues, starting with "focusing on bringing together stakeholders to preserve ecosystems in Alaska, as well as working with local groups to protect migration routes in the Rocky Mountains."
The mission of Nature's Negotiators is to create a future where all voices are honored in brainstorming and implementing models for conserving, protecting, and sustainably utilizing the last of our wild resources.
The Donovans' are set to start their first fundraising campaign in February, with a goal of raising $35k to purchase specific plots of land in Colorado and Alaska, in order to ultimately preserve wildlife migration routes by creating conservation easements on these tracts of land.
"Another mission of ours is to fund a 'think-tank' of sorts, wherein we bring all concerned parties to the table to discuss a certain issue. We are currently looking into the 'Pink Salmon as Predators' issue in Alaska, and hope to bring disparate groups to the table to best find a solution that works for everyone. Along with that, we hope to pave the way for various entities to work together to understand not only the symptoms, but the root causes behind ecosystem endangerment," Maxwell shared in a statement.
"We are looking forward to the day when we can sit down at the table with all the stakeholders working towards sustainable solutions, but we need an immediate fix," Clare added. "That's where conservation easements come into play. At this point in history, we still have the ability to make a tangible difference in the fight for Earth's health and safety. As Jane Goodall puts it, we still have hope. And the most effective way to capitalize on that hope is to take powerful steps (backed by powerful entities, hence focusing on conservation easements) to protect what we can in the best interest of multiple parties involved. We are inspired by our contemporaries who are equally alarmed and passionate about the urgent need to act in order to save as much of the environment as humanly possible – for the sake of us and everything not human."
You can learn more about Maxwell and Clare's mission and how you can help at NaturesNegotiators.org!
IYCMI: Maxwell's new Netflix series That '90s Show premieres NEXT week, on Thursday (January 19). Check out the trailer here!
Like Just Jared Jr. on FB